Senior Service Coach & Trainer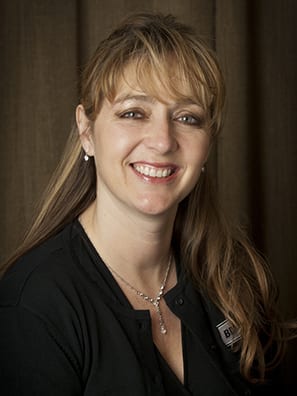 Now approaching three decades of experience specializing in HVAC Service Operations Management, Jennifer Shooshanian is one of the most knowledgeable and accomplished service performance experts in America. She entered the HVAC industry in 1991 working for Jacob's Heating and Air for 13 years.
Based on a ground-floor start, many roles across multiple departments, she developed operational experience with breadth and depth in service operations as well as the inter-workings of other operations departments.
Since joining BDR as a Trainer and Service Coach in 2003, Jennifer has conducted over 400 service training classes across the United States and Canada. She has coached over 250 different Service departments ranging in size from 3 to 80 Service Technicians in all market types and sizes.
Jennifer is experienced in both Residential as well as Commercial Service operations, and her clients venture beyond just HVAC, into Plumbing, Refrigeration, Electrical and other related fields. Many clients have complex, highly diversified companies with multiple branch locations and distributed or centralized office operations. Jennifer is also an expert in service operations accounting and performance analytics. She is phenomenal at communicating financial performance with department managers with little to no accounting knowledge. This is a "key" training and coaching skill of Jennifer's that gains buy-in from reluctant Service Managers, so she can teach them how to win.
What sets Jennifer apart are her intangible personality traits brought forth in her training classes and with BDR coaching clients: her ability to motivate clients to BELIEVE that there "is" a better way; to trust in themselves and step away from the money-losing norms of the industry; to venture out with Jennifer on a journey of far superior Service performance, greater departmental morale, superior customer satisfaction and retention, and far greater management leadership skills. Jennifer is a master at finding a path forward that clients can believe in, while holding them accountable to their own success…with a smile!
The building blocks of Jennifer's career start with Jacob's Heating and Air and include: 3-years as Sales Coordinator and Residential Retrofit Coordinator; 3-years as New Construction Coordinator; and 7-years as Service Manager, from 1997-2003.
Jacob's Heating & Air – Service Manager Accomplishments:
Jennifer transformed the Service department from a money-loser to the highest margin department in the company. Over a six-year span, starting in 1997, Jennifer took over a department with 10 Trucks generating $600,000 annually, for an average of $5,000 in revenue per month, per truck. Six years later, Jennifer's Service department was doing $2.3M with 7 Service trucks, averaging $27,380 in revenue per month, per truck. Jennifer's Service department generated a 65% gross margin and a 30%+ net profit margin, while reducing direct and overhead costs by 3 trucks, or about $360,000 in annual cost reductions.
Jennifer also developed their Commercial Maintenance Sales (CMS) program and sales processes from scratch. She hired the company's first CMS Representative, which requires a 9-month ramp-up period for sales to become meaningful. CMS grew from less than 100 unprofitable accounts to 350+ profitable accounts in 4 years. The original 100 accounts required two-years of hard work to bring them to profitability, and Jennifer retained 95% of them. Her CMS program accounts generated a profitable 55-60% Gross Margin.
In 2003, Jennifer's life took her to a different state, upon which she joined BDR as Service Coach. In 2005, her role expanded, adding Service Trainer to her resume. With BDR's growth, Jennifer was promoted to Senior Service Trainer and Senior Service Profit Coach. Instrumental in the co-development of BDR's Service training and coaching programs, she has a proven track record of helping contractors and dealers to transform their Service department from an underperforming asset into a highly-prized, cash flow rich, profit center.
BDR – Service Trainer & Service Profit Coach Accomplishments: Over 16-years' experience
Training Classes: Conducted over 400 classes across the US & Canada
Managing & Growing Service Profitably
Service Dispatch University
Residential Maintenance: Creating Lifetime Clients
Top Gun Technician Excellence
Commercial Maintenance Sales
Senior Service Profit Coach: Worked with over 250 Service Departments across the US & Canada
Expertise focus is HVAC, with experience in Refrigeration, Plumbing, Electrical, & Solar
Worked with departments ranging in size from 3 Techs to 80 Techs, spanning every type of market from large to small, metro to rural, high-income to low-income.
Expert in Flat Rate systems, accessory programs and maintenance agreement programs
Expert in service operations, dispatching, performance tracking and reporting
View Other BDR Team Members