BDR's Installation Coaching is about leveraging the "hidden workforce" that you already have working for you, right now!
Across America, the average revenue per installation truck is $25,000 to $35,000 per month. This translates into $300,000 to $420,000 per year, per installation truck.(Please ask us how we know).
Contrast that with BDR's top-performing installation departments that range from $90,000 to $200,000+ per month, which equals $1,080,000 to $2,400,000 per installation truck, per year!
The cumulative difference over 5 years is life-changing for everyone!!!!

1st-Year = $708,000 to $1,980,000 more!
3rd-Year = $2,124.000 to $5,940,000 more!
5th-Year = $3,540,000 to $9,900,000 more!
More (trucks) is not better
Would you rather buy another truck…stock it…and then (try) to hire and pay a skilled installer and helper and then pay all the associated direct costs, like gas, maintenance, insurance, etc., plus pay the overhead administration and benefits…which all costs a TON…and then have to manage more installers? The more productive that your installation department gets, the more you can pay your existing installation craftsman. You win! They win! They will stay with you and work harder. We will coach you and them on how to work smarter, which will drive your ability to hit the top-performing BDR client numbers above.
Doing more with less
BDR's Installation Coaching Program is about labor efficiency, increasing productivity, and reducing mistakes across the spectrum of paperwork, departmental and process handoffs, and installation execution steps…from the sale to the start-up. It's about business management training, financial KPI training, efficiency analysis, and expense controls. It's about leadership-skills development for your GM, Operations Manager, Installation Manager(s), and Field Supervisor(s).
Installation coaching customized to your business and market
All markets are unique. All companies are unique in many ways. Your Installation Coach will work with you to identify strategic areas that address your unique needs and opportunities. Once identified, your coach will help your team develop and implement the actionable procedures that result in improved performance in each area that drive greater performance and success for you, your team, and your customers.
Are you sure you need to add trucks and hire installers to meet your demand?
Maybe talking to BDR and building a profile on your installation department and profit opportunity makes sense. Hint: Your "hidden workforce" is the smart play because it's far less expensive and far more profitable than buying another truck!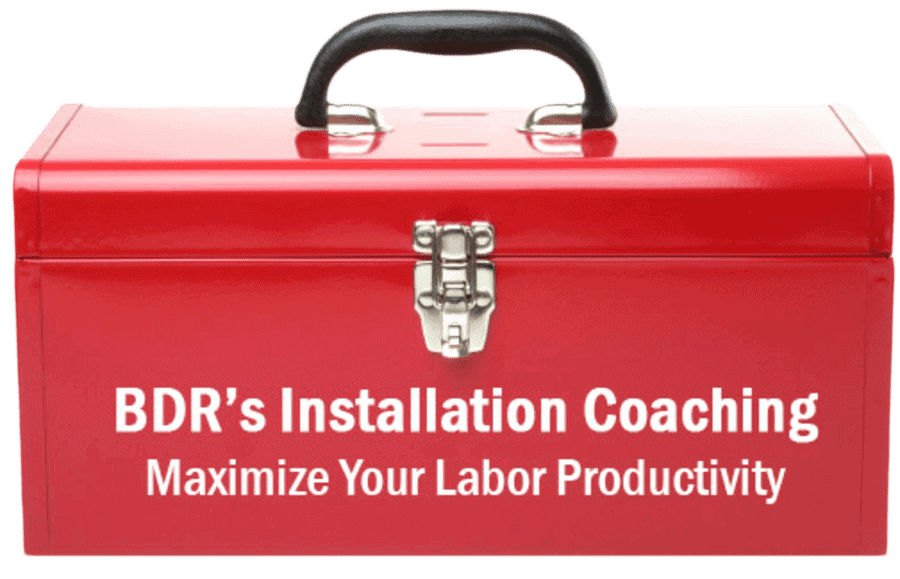 Top 10 Items We Focus On
Installer Efficiency Percentage / Matrix - How well are each of your individual Installers and crews being utilized?
Warranty & Callback Reduction - With 90% of our industry's profits being lost to callbacks, we must forensically identify the reason(s) for callbacks within the department and create plans to eliminate them.
The Art of the Start - Develop a strong culture by setting up the Install team(s) to win each day.
Job Packet Content - Fine tuning communication from the Sales team to execute of the perfect install is a critical component to client and team member satisfaction.
Tools Stocking Program - Determine the right tools needed for each type of installation.
Truck and Warehouse Inventory - Create or refine an inventory management system.
Quality Assurance Process - Develop a repeatable process to reduce callbacks and increase client satisfaction.
Job Staging - Create or refine your tailored approach for an efficient shop / warehouse layout and job prep procedures.
Scheduling/ Dispatching - Get to more calls, more efficiently.
Written Installation Procedures - Build consistency and your company culture by formalizing your installation practices.
Watch Video Testimonials or Read Quotes from our Clients