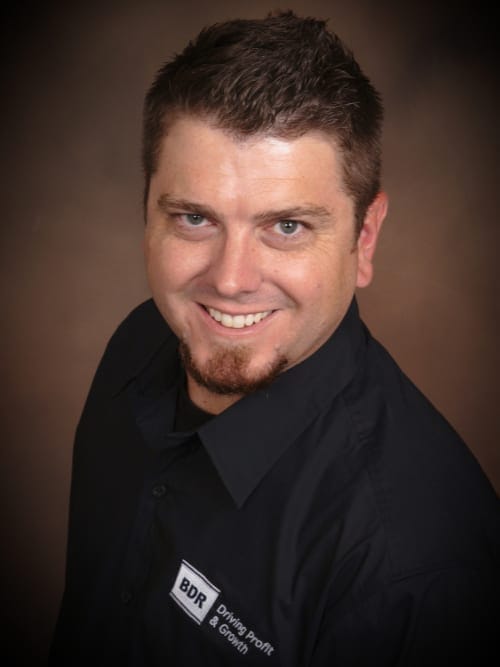 Shaun has 19 years of experience in the HVAC and Plumbing industry spanning several operational, management, and sales roles, with a concentration in – and passion for – Service Management & Service Operations. He has management experience in the Residential, Commercial, and large-scale Industrial Mining markets. He has built and grown service, installation, and sales teams from scratch and has improved operational performance in Service, Installation, and Plumbing operations for each company he has worked for.
Shaun has held many roles including Service Manager & Dispatcher, Sales Manager, Installation Manager, Mine Operations Manager, and Director of Safety. He has held sales positions in Residential Service & Installation, Commercial Maintenance Agreements, and Industrial Service. He is a natural at business development, which has positioned him to successfully prepare his Service Technicians to communicate with customers effectively, look for opportunities, and present and educate his company's offerings to drive better service and greater sales.
He has successfully demonstrated his ability to:
Manage staff sizes to 40 employees.
Turn failing and unprofitable departments into profit centers.
Grow profitable business relationships.
Create a sales and customer-service culture.
He has transformed "independent-minded" departments into cohesive interdepartmental partnerships by implementing mutually-beneficial efficiency-focused processes that improved company-wide morale, the customer experience, and bottom-line profitability.
Furthermore, as a BDR-coached Service Manager for two BDR Profit Coach Clients, Shaun has 11 years of experience in business coaching from the client's perspective. As such he knows BDR business management practices & BDR's industry-specific financial performance analytics. He has been involved in business planning, budgeting, and strategy development for his employers. Shaun is a strategic thinker with a proven track record of tactical execution follow-through. He is skilled at identifying, and diagnosing the source, cause, and cost of process inefficiencies, and problem-solving to reach the desired outcome in a team-based approach. Shaun's success is documented at BDR, with a sampling of his results below:
Service Flat Rate Conversion: Successfully replaced a Time & Material pricing model into a Flat Rate pricing model for a service department of 4 technicians. Shaun raised the hourly rate from $150 to $230 per hour (53%) and increased monthly revenue from $65,000 to over $105,000 per month. Average monthly service truck sales increased by 61.5% from $16,250 to $26,250 in one year. Technician and company morale improved, setting the stage for additional improvements.
Preventive Maintenance Agreement Program Overhaul: Restructured a money-losing, 1-size-fits-all PMA Program by 1) Creating a 4-tier offering – Good/Better/Best/Fantastic – ranging in price from $170 to $500 per year; 2) Raised the price of the "Good" tier by 10% to $170; 3) Developed marketing materials and conducted training for the entire company; 4) Implemented a strong sales program to grow "new" PMA customers. Results: 35% of PMA customers transitioned to a higher pricing tier; Grew PMA customer base from 650 money-losing contracts to 1300 profitable contracts in 2.5 years.
Service Department Turn-Around: Took over an unprofitable service department recording a Net Profit loss of (50%). Embarked on implementing or improving: pricing; inventory management; dispatching techniques; "functional" accessory program, and effective reporting. By implementing BDR's "8-for-10" Service Reporting system, Shaun increased and maintained Service Technician billable-hour efficiency at, or above, 6 hours per day, and decreased Service Material percentage costs from 30% down to 10-13%. Shaun steadily increased net profits from a (50%) loss to a 10% net profit over 2.5 years.
Implementation of a Commercial Maintenance Agreement Sales Department: Established and grew a "formal" commercial maintenance agreement sales department to capitalize on the company's established CMA clientele consisting of 40 contracts. Through strategic planning, partnership development, and execution, he increased the company's CMA customer base by 120 client relationships, representing a 300% increase in 1 year.
Large CMA Contract Signing: Developed and signed a 2-Year, $350,000 commercial maintenance agreement contract with the Northeastern Nevada Regional Hospital for HVAC, Refrigeration, Kitchen, and Ice Machine maintenance spanning dozens of facilities.
Large Industrial Department Management: Oversaw a successful Mine Operations department with up to 40 individuals and implemented a culture of efficiency and safety that saw zero incidents and multiple accolades from clients: Barrick Gold Corporation, Newmont Mining Corporation, Marigold Mining Corporation, and Queenstake Resources.
Certifications & Accolades
Acuity Institute – Change Management Professional
The ACHR NEWS – 2021's Top 40 Under 40
ACCA Residential Design for Quality Installation
Lean Six Sigma Black Belt
Featured Podcasts
View Other BDR Team Members