Building a Great Manager: Setting Your New Manager Up for Success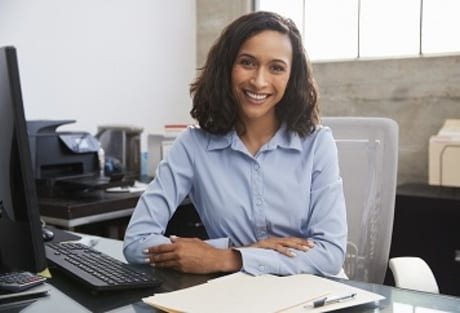 Manager Development Blog Series
In our last installment, we discussed ways to identify the right candidate for your management position. But it's just as important for you to lay a solid foundation to build that new person up as it is to find someone who possesses the right attributes and experience.
Providing Training & Mentoring
Even before you hire a new manager, set aside time to consider how you will provide them with training and mentoring. You don't have to develop all the elements of the training program, but it will help to have them identified ahead of time.
Training
What instruction and education will the candidate need to succeed as a new manager? Every candidate will need some sort of training to help them reach their potential as a manager. Possible management-specific training topics could include:
Time management skills
Delegation skills
Communication skills
Basic understanding of financial statements
How to review and apply key financial metrics for their department
Leadership skills
There will also be training they will need that is task-specific to how your company does things. Save time in the long run by starting to build your list now and identify where you will source each item.
Mentoring
Mentoring can be defined as a professional relationship where an experienced person assists another in developing specific skills and knowledge that will enhance their professional and personal growth. This is about how you, as the Owner, will coach your new manager to be successful. Mentoring is less about training and more about helping someone broaden their perspective, learn from their mistakes, and grow as an individual. Be sure to set up regular times to meet with your new manager to mentor them. These meetings will be different than those that focus on department performance. They should focus on coaching to make the manager better. Review decisions and choices they made then educate them on how they can improve or celebrate their wins. This is also a great time to build your personal relationship with your new manager.
Setting Expectations & Measurements
For a new manager to succeed there must be clear guidelines for how they win in their role. The expectations you have for them, as well as the goals they will be measured by, must be plainly and clearly communicated.
Expectations
The Oxford English Dictionary defines expectation as a "belief that someone will or should achieve something." Expectations are different from goals in that they are more a guide than something you would build a plan to achieve. Still, setting expectations are crucial for a new manager. For example, if you have a new Installation Manager, how often do you expect them to be in the field versus being in the office? How many job sites should they visit in a day? Do you expect them to be at the shop when your Installers leave for the day as well as when they return?
It's crucial that owners clearly communicate their expectations to a new manager. Otherwise, the manager will apply their own expectations to the role – and they may not match up with yours. For example, how much leeway will they have to make decisions? At what point should they consult you? These are situations where an owner can easily assume that they expectations they have are the same as those of the new manager. Don't assume – communicate!
This can be as simple as having a conversation about the major things you expect from them in their new role. However, be sure to follow up in writing to ensure that you have communicated clearly. Then encourage questions to ensure the expectations have been fully understood. Major expectations should also be built into the new manager's job description. Having expectations aligned on both sides will help the new manager know where to spend their time as well as how they can succeed.
Goals
"Goals are identified as possible outcomes with a process defined to help us reach them." (source: A How-to on Understanding Goals versus Expectations, by Ruth Kustoff, knowledgeadvantage.biz). Goals are how a new manager will be measured and are more specific than an expectation. They typically require a plan to reach them and should be specific, measurable, and achievable. If the goal is to increase revenue, break it down to how big the increase should be and by when. Now a new manager has a specific, measurable goal to strive for, but keep in mind the goal must be achievable. Could you do it, given time? Barry Burnett, one of BDR's founders, would always say that a good goal is a stretch, but possible.
Once a goal is agreed upon, ask your new manager to create an action plan to achieve it. Be aware that they may not know where to start, especially if the plan involves the actions of other team members. Most likely they've only managed themselves up to now. Helping your new manager build an action plan to achieve a goal is a great opportunity to build your relationship and make sure your expectations are aligned.
Giving Rewards & Encouragement
As you work together to set goals, include what the reward will be when the goal is achieved. Make sure it is something that is important to them, that will help motivate them. Having a reward set up for the manager will also set the example for them on how they can reward their team in the same way.
However, many times, simply providing encouragement can be as powerful as a monetary reward. If you observe they are stressed, check in with them and see if they need help or just some inspiration. If they did something well, let them know. Don't be stingy with praise if it's warranted. Recognizing their achievements strengthens your relationship and builds a positive feedback loop where they'll want to do more and more.
Be aware that there will be false starts and mistakes with a new manager. Don't get down on them if they had a plan for what they did. Instead, provide encouragement and coach them on how to improve. Most likely, some or all of what they're doing is new to them. It will take time, as well as experience, for them to move from a novice to a seasoned manager. However, when they succeed, be sure to celebrate with them.
Next Up: What Great Managers Do
In a few weeks, check back for the final installment of our series, as we look at what great managers do to achieve company goals and help their team succeed.
About the Authors
Chris Koch has nearly three decades of HVAC experience, starting at the ground floor and working his way up to VP of Service. His expertise ranges from a start-up to $60 million in sales. Chris has gained rich, diverse exposure to many forms of doing business. He is a team-building leader and possesses necessary hands-on experience. 
Matt MacArthur brings a broad range of talent to his position as BDR's Director of Training and Marketing Manager. Skilled in writing, editing, training class development, adult learning techniques, and marketing, Matt works with BDR's trainers to continually improve BDR's training materials and class delivery. He leads the Marketing department in developing marketing tools for BDR's 50+ business training classes and coaching services, including the Profit Coach program. 
If you'd like more details on upcoming events, click here.