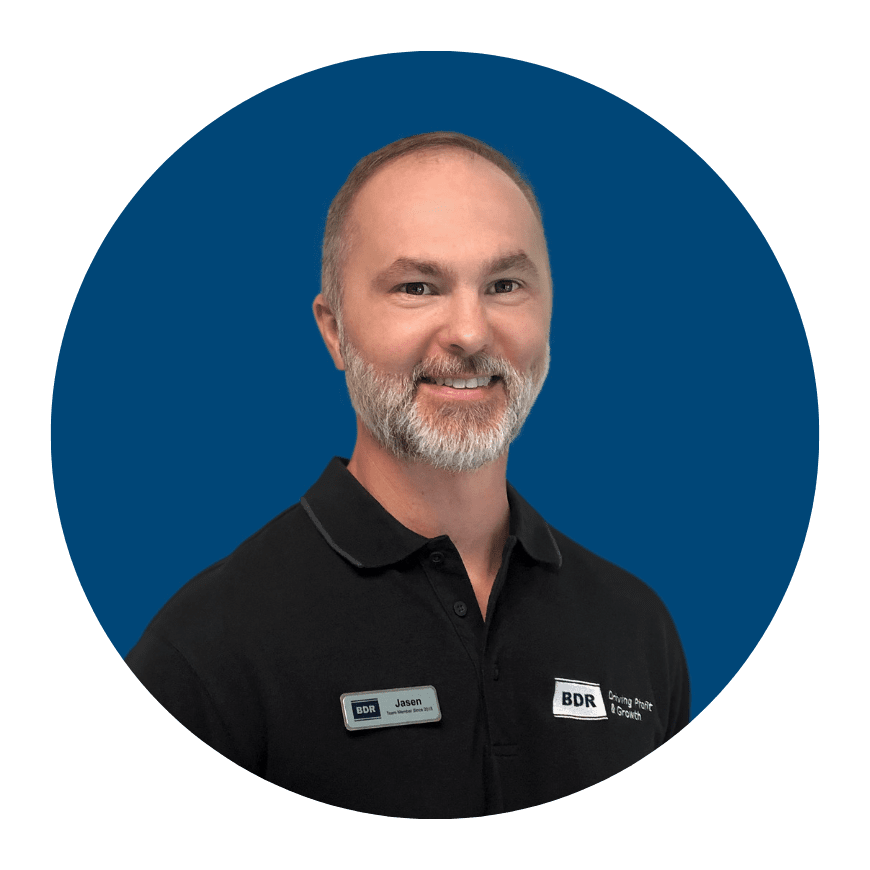 Certifications & Accolades
Acuity Institute - Change Management Professional
Trane Circle of Excellence Award (2011, 2012, 2013, & 2015)
Trane Top Ten Award (2014)
Jasen Laws brings 25 years of HVAC, Electrical, and Refrigeration industry experience to BDR's business coaching clientele. Jasen began his career as a teenager in a sheet metal shop building ductwork and worked his way up by learning every aspect of the HVAC industry, working for various companies, owning his own company, and going into distribution. His experience covers Residential Installation and Service, Commercial Installation and Service, Duct Design and Installation, as well as Electrical Design and Service.
Jasen served in the United States Air Force for four years with an Honorable Discharge. He was awarded Air Force Commendation & Achievement Medals for Operation Iraqi Freedom.
Through on-the-job training and continuing education classes, Jasen's career path mirrors many of the BDR Profit Coach Clients, first coming up through the field, then earning his way to lead installer, lead service technician, lead refrigeration technician, service manager, and eventually business owner. Jasen successfully transitioned from his field roles to business owner by successfully implementing processes and procedures that drove revenue and improved internal efficiencies. At the time Jasen purchased his company, annual revenues were $300,000. Within six years of ownership he:
Increased annual revenues by over $2 million.
Implemented hiring and retention policies, sales presentation processes, and profitable pricing strategies.
Built a loyal client base with a membership program.
Established an annual budget with cash flow projections.
Jasen continued growing in his leadership and managerial success by investing in ongoing employee training, consistent personnel evaluations, and safety policies. Jasen painted a clear vision for his team, focused on creating a culture of continual self-improvement resulting in a company that had two locations covering three states. For this ongoing success, Jasen's company earned the Trane Circle of Excellence Award for multiple years.
After selling his company in 2016, Jasen continued his passion for the HVAC industry by relocating to Houston and taking a Territory Manager position with the largest independent Trane wholesaler. Jasen was instrumental in developing ongoing training programs for his contractor clients which included sales coaching, teaching onsite customer service skills, best practices for conducting service calls, and installation techniques. He was also actively involved in implementing the best operational processes for running a profitable business.
Jasen has taken his knowledge and passion for the HVAC Industry and joined BDR as a Head Coach. He is excited to help his coaching clients exceed their business goals. Jasen believes ongoing mentorship and coaching provide tools for motivated business owners to support long-term growth and profitability in their companies.
For lack of guidance, a nation falls, but victory is won through many advisors. —Proverbs 11:14
View Other BDR Team Members