Dave Consulo answers your questions about BDR's Dealer Direct training program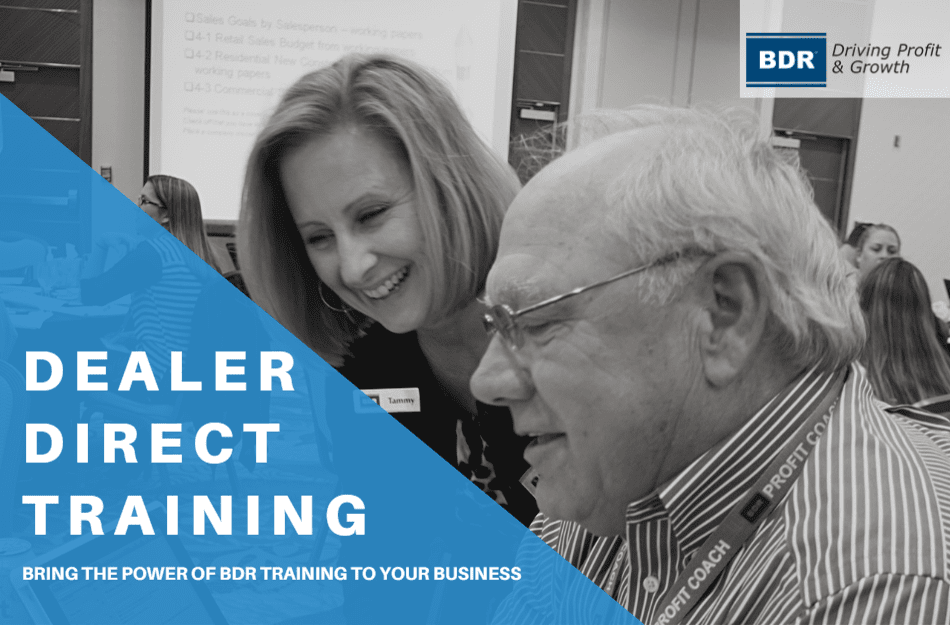 We asked Dave Consulo, BDR Head Coach & Trainer, for his insight on the fastest growing part of BDR, the Dealer Direct training program. Discover more below:
Question: WHAT IS DEALER DIRECT TRAINING?
Dave: Dealer Direct training is when BDR comes to you with a select group of classes that are personalized for your business. There is nothing like getting everybody on the same page and ready to go into the field to successfully implement.
One dealer who hosted a Dealer Direct training had a Technician sell $55,000 in accessories the month after the class. That's $33,000 in gross profit! They are now in their third year of Dealer Direct training and the results are growing each year. These types of results are what are making Dealer Direct BDR's fastest growing training channel.
Question: WHAT DEALER DIRECT CLASSES ARE AVAILABLE?
Dave: There are 4 classes available, which are all certified for N.A.T.E. continuing education hours (CEHs). And there are more on the way!
Top Gun Technician Excellence – Train your Technicians and internal staff to become a dynamic accessory sales and lead generation team. Technicians, Owners, and all Service Department personnel should attend.
Top Gun Installer Excellence: Closing the Loop – Train your Installers, Coordinators, and Sales team to work together to deliver a great installation experience for the customer that leads to a referral. Installers, Owners, Install Managers, Install Coordinators, Sales Coordinators should attend both days. Salespeople attend on Day 2 only.
Labor Management: Retail-focus – Learn how to leverage your existing crews into the most productive and efficient revenue and referral generating team possible. You will find out how you can become the company that workers want to work for.
Duct Design for Profit & Efficiency – Learn how to correctly design a residential duct system using ACCA's Manual D while saving money and labor. Owners and Install Managers should attend to create your company standards for installation and learn how to train your Install team. Lead Technicians and Installers can also attend to get total team buy-in.
Building a Retail Sales Organization – The sales process involves more than just the Salesperson. This class covers everyone's role in your company's sales process and will mold your team into a true retail sales organization.
Building the Next Generation of Company Managers – As your company grows and your structure changes, team members will move into new roles. Build a management team that can implement your company vision.
Question: HOW IS DEALER DIRECT DIFFERENT FROM A STANDARD BDR CLASS?
Dave: Dealer Direct is different because we are focusing on just your company. This allows us to maximize our time and focus on key action items that are going to drive profitability, promote a great company culture, and achieve your goals. Your team will be able to take what they learn and implement it immediately.
Question: WHAT IS THE BEST PART OF A DEALER DIRECT CLASS FOR YOU?
Dave: As a trainer, the best part of a Dealer Direct class is being able to work with your company's team. We can do so much more in this setting than we can in a class with multiple companies. We learn, get buy-in, and customize tools and processes to your company so they can be implemented right away. Accessory brochures, maintenance brochures, a dispatching process, you name it, we can help put it in place, get your team excited, and have it ready to roll.
Question: HOW DO I SIGN UP FOR DEALER DIRECT TRAINING?
Dave: Ask your BDR coach for more information or you can contact BDR's Distribution Relationship Specialist, Candy Cunningham, to sign up. You can also learn more HERE.