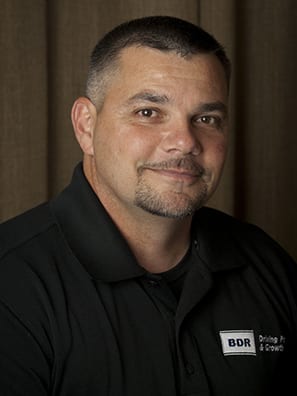 Dave Consulo brings 13-years of HVAC experience spanning the type of knowledge and expertise that can only be gained by starting at the ground-floor and rising through the ranks. He has helper, installer, and installation team leader experience. He was a sales rep and sales manager. He rose to manage both Installation and Service. He has worked in or managed the residential, commercial, new construction and replacement markets. Dave has a total of 15-years of management experience spanning 7 years in HVAC and 8 years in the Agricultural industry and has built a reputation as an effective manager that generates employee success and company profit.

Settling on Service as his favorite department, Dave recognized the unique and profitable benefits of a well-run service department in terms of: retaining quality service technicians and making a profit in slow periods; driving replacement sales through service referrals; and leveraging a sound, profitable maintenance agreement program to establish a first-position competitive advantage that consistently drives new-customer acquisition. Dave has a HUGE passion for working directly with Service Technicians on "customer communication and soft-sale" skills. Given his exceptional skills in this area, Dave has co-authored a new BDR coaching program focused on Service Technician excellence.

However, Dave's pre-HVAC industry experience is a key contributor to what makes him unique and successful in HVAC. Dave has a college bachelors degree in Agricultural Business. He worked in Cattle Management as the Sales & Marketing Manager of Breeding Stock for 8 years. This degree and the agricultural industry trained Dave of the importance of long-range strategic planning due to the long-term product-replacement cycle. The nature of Dave's work required meticulous attention to detail in planning and execution, daily statistical analysis of results and record-keeping. "To drive success, the business practices of Cattle Management and HVAC management are identical: long-term planning, marketing strategy, selling value vs. price, customer communication and service, employee motivation skills and reward systems, success-tracking and the power of developing a renewable stream of income." Dave is directly responsible for generating an average cattle sale price that was 55% higher than the national average ($5775/$3725) four years in a row (1993 – 1997). "Without question, the key to success in HVAC Service is long-range planning. If you are planning for next week or next month, you've already lost."

Dave will tell you he learned this, and much more, directly from BDR's training and coaching programs as he attended numerous BDR training classes, 3 Profit Launches, and was a 7-year coaching client in BDR's Profit Coach and Service Profit Coach Programs.

For Peck Heating & Air, Dave was promoted to Installation & Service Manager in June, 2004. His results are second to none:
Built Peck's service department and installation-referral programs by building a strong and profitable preventive maintenance agreement program for residential and commercial clients.

Residential Maintenance Agreement Growth: September, 2004 – September, 2006

Started with 350 residential PMA's, Dave grew this to 1,100 PMA contracts representing a 214% growth rate in 2 years.

Commercial Maintenance Agreement Growth: September, 2005 – September, 2007:

Started at 26 sites with 130 HVAC units and grew this to 91 sites with 1,144 HVAC units.
Total Commercial sites grew by 250%, and units-serviced grew 780%!
The average number of units-per-site grew from 5 to 12.57 units; a 151% increase.
Dave's planned goal of going after larger commercial opportunities drove considerable profit margin increases due to logistics and labor-cost advantages gained and provided Peck Heating with "first-position" advantages on commercial retrofit sale opportunities.
Service Technician Billable-Hours per Day: Starting September, 2004, Peck's service tech's hovered at the national-average of 4.0 – 4.5 billable hours-per-day. In just two years' time, Dave increased this dramatically, averaging 8.64 billable hours-per-day, per tech, for an 8-hour day worked, over the entire year of 2006. To this day, Dave Consulo holds the top-performing record for BDR's "8-for-10 Service Reporting" (technician efficiency) vs. 150 other BDR Service Profit Coach clients, nationwide, over a 10-year period. Further, Dave maintained a minimum average of 8-billable-hours from 2006 – 2008.
In fact, he set dozens of performance records for his company and several in comparison to all other BDR Service Coach Program clients, with most records still standing 5 years later. Dave's success compelled BDR to ask him to speak to all of our clients at BDR's Member's Convention, held in Las Vegas in 2007. Dave's topic focused on the value of building a sound and renewable income for your company through a profitable maintenance agreement program. It was very well attended and very well received.

"Most all of my success in developing a profitable service department stems from following BDR's training and coaching in both residential and commercial service. BDR provided a template for success. I knew it could be done, sprinkled in my creativity and idea's, and implemented a defined plan."

Dave has a great demeanor that his former employees and current coaching clients respond to. He is able to motivate and generate excitement and loves to celebrate his client's wins with them. He credits these gifts and his work-ethic to the values instilled by his parents who remain a strong, positive influence in his life.
---
Certifications
ACCA
View Other BDR Team Members