Coaches Corner: Developing a fall marketing campaign that gets results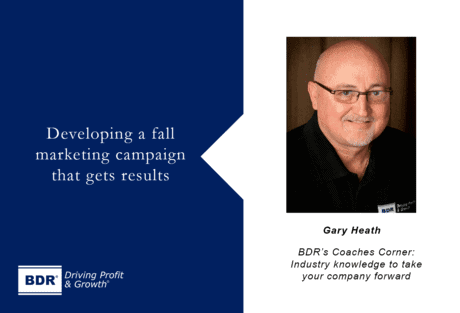 Developing a Fall Marketing Campaign that Gets Results
It may seem odd to think about planning for fall in the middle of summer. After all, it's hot outside and calls are aplenty. But consider how large Retailers position themselves. To a tee, they are guaranteed to have merchandise out a season ahead. That doesn't happen at the last minute. Someone has been planning that for weeks in advance.
Yet, in our trade, we can go through the chaos of summer and often wait until the first cool fall day, before even starting to think about what we're going to do for the Fall campaign.  Spring and Fall are both great opportunities to acquire new customers.
Think about it; in the changeover season it doesn't matter who installed it, how old the system is, or whether they have worked with us with in the past. Every home's comfort system in a well-selected neighborhood of your choosing could benefit from a professional cleaning and safety check.
The challenge is being positioned at the right time, with the right message to deliver an offer that is persuasive and value packed. Successful marketers are always planning ahead, well in advance of the actual season date.
Do not wait until September or October to determine your strategy. Consider the following:
Who is your target audience?
What is your compelling offer?
How you will effectively deliver this message?
When you will deliver this message?
What you do today will impact your service and install schedules 90 days out and have a residual effect 6 – 7 months from now. Key strategies to consider include:
Set goals for your call capacity in the shoulder season

Determine number of calls per day per tech x number of days per month = total calls per month
Research the number of maintenances to be performed

Select the number of maintenances you will schedule each day and subtract from your call capacity. The excess number of calls are your opportunities.
Stretch out your maintenance season. Don't cram your maintenances in two months, techs need time to develop relationships with your clients.

Utilize outbound calling and an email and/or social media campaign to reach your existing customers who are not current maintenance / membership clients

Invite them to join your club / membership program or educate them on the accessory of the month
Work with your coach to create talking points and have team members practice before calling

Be sure to meet with your techs; educate and inform them on what is being offered so you will have a consistent message throughout the department

Neighborhood Marketing

Direct mail to neighbors of clients where you have installed a new system or performed service.
Include door hangers and yard signs

Update company website- new message/look. Add new features- such as Live Chat
Internet campaign- review effectiveness of search engine optimization, geo-fencing, target geography
Update all social media with new messages
Update all company collateral
Create training outline for late summer / early Fall
Meet with your BDR Coach, your team and all vendors to get as much "trigger ready" planning in place. This will allow you to continue acquiring new customers while strengthening the relationships with your existing clients. Wahoo!
Gary Heath, Head Coach