5 Keys to Leveraging Your Service Department to Prime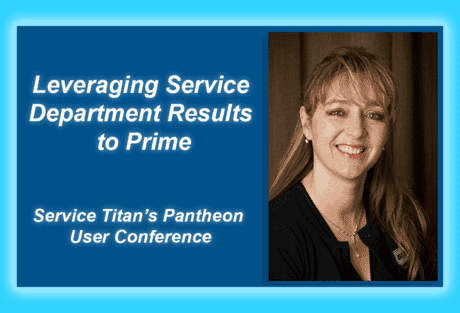 5 Keys to Leveraging Your Service Department to Prime
Earlier today, BDR Trainer and Coach, Jennifer Shooshanian, conducted a session about Leveraging Your Service Department to Prime at this year's ServiceTitan Pantheon User Conference. Your service department holds the key to the profit center of your business and should be yielding the highest gross margin in the company. There are no gimmicks needed to achieve Prime results, just a focus on key foundational principles.
Let's review the 5 keys to leveraging your Service Department results to Prime that Jennifer discussed at her session:
Average Ticket- It's essential to maximize the opportunities for revenue on each ticket.

Implement flat rate (with proper management)
Offer accessories complimented with a spiff program
Coach Technicians on how to avoid common billing omissions
Create a procedure for system diagnostic, not "symptom diagnostic"

Billed Hours- Here's where we can really get into the nitty-gritty of the operations to make some major improvements! Efficient and effective use of your Technicians' time is imperative.

Embrace flat rate
Become a "billing detective"
Reduce callbacks with system diagnostics
Provide Dispatchers with proper training
Implement a truck stock strategy

Drive Time- Reducing drive time between calls can make a huge difference. Savings of as little as 10 minutes per call can generate an extra $92,400 in revenue per technician.

Train your Dispatch team on technician zoning, efficient call routing, and dispatching one call at a time
Implement real-time GPS
Schedule lunches and breaks

Maintenance Agreements- A strong maintenance agreement program can provide steady income and work all year-round.

Create a company-wide culture
Provide training for all team members
Price agreements profitably
Have a strong spiff program
Offer tiered maintenance

Revenue per Truck- With the implementation of the first four keys, you will see an increase in your revenue per truck as well, but don't stop there.

Offer accessories at every opportunity
Eliminate missed billing
Improve dispatch efficiencies
Drive call count with maintenance sales
Price all services at a profit
Capture opportunities for system diagnostics
Leveraging your Service Department to Prime may seem overwhelming but by implementing these 5 keys you're well on your way. Not sure where to start? BDR offers training to help get your team on track. Our Service Dispatch University can help train your Dispatchers on the most efficient dispatching practices to help your team get to more calls and generate more revenue. And our Top Gun Technician Excellence training can improve your Technicians' customer communication skills, sales leads, and referral generation through a defined service delivery procedure.
Check out our Upcoming Events page for a complete list of our upcoming trainings or contact Angie Swartz at angieswartz@bdrco.com or (206) 870-1880 for more details.