BDR's Coaches Corner: Positioning Your Sales Team to Win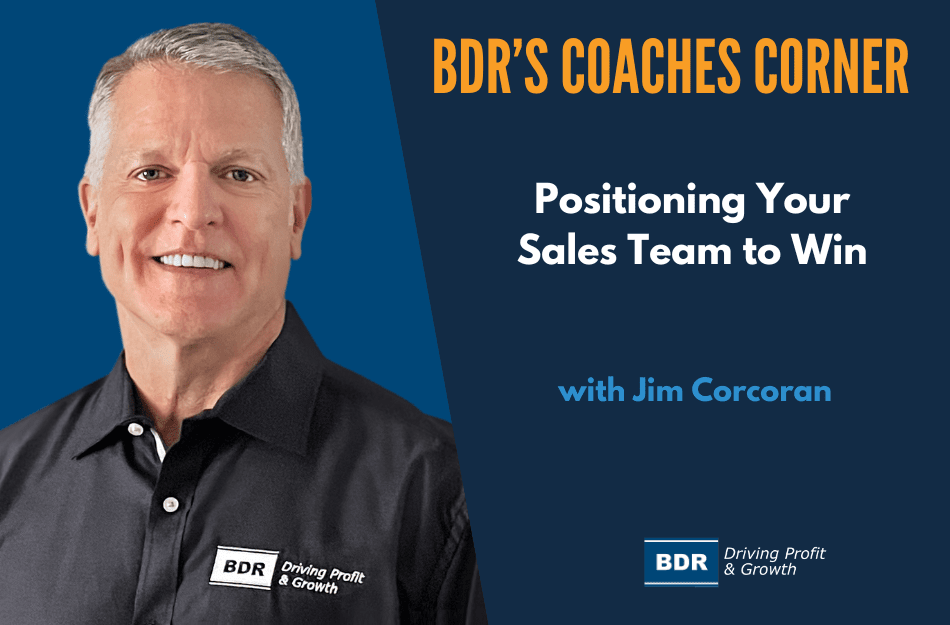 By Jim Corcoran, Head Coach
Positioning Your Sales Team to Win
Positioning is the process of continually placing your company in the path of opportunity to be the obvious choice. This concept is one of the foundational items for each step of the sales process.
Positioning teaches us the importance of completing processes with a consistent continuity and flow to achieve a desired result. Before we look at the first few steps in the sales process, let's consider a few of the benefits of having a defined sales process
Your company is "positioned" as the right choice in the marketplace- reducing or eliminating competition by differentiating yourself through a value based offering
Every sale results in a satisfied client and "positions" you to receive a referral
Increasing lead quality through a higher percentage of referral leads to higher average tickets and closing ratios
BDR's Recommended Sales Process
Incoming Call
Customer Interview
Set the Appointment
Lead Research
Communication to the H.S.A.
Sales Appointment
Post Proposal Actions
H.S.A. Return Trip
Post Return Trip Actions
Even though there are 9 steps in the sales process, the discussion below will focus on steps 1 through 3 and provide examples of positioning and putting your company in the path of opportunity.
1. Incoming Call
Use a pleasant voice in a non-hurried manner and answer the phone by the third ring
Thank them for calling…give the company name and your name (In case you are disconnected)
Talking on the phone may be the first contact you have with a customer- Make it count!
They have a reason that they called so make sure we listen to that purpose, prior to imposing our motives on them.
2. Customer Interview
Before setting the appointment, the customer interview is a crucial phase in setting the expectations for the Home Solutions Advisor's (H.S.A.'s) visit to their home. It occurs in 3 phases.
Phase 1 – Collect the base contact information

Name, address, lead source, best number and time to reach the client.
Sales related questions- what type of system do you currently have? Do you have a maintenance agreement? Have you done any research? Have you ever purchased a system before?
Phase 2 – Open ended questions

Engage the customer the customer to interact with your Customer Experience Coordinator and gain additional information to better prepare the H.S.A.
What issues are you having?
What are you looking to replace?
Who in the home suffers from allergies?
What accessories do you have?
Phase 3 – Value Building Statements

Allow your Customer Experience Coordinator to plant seeds for additional products and services along with reassuring the client they made a great decision to call your company.
We have highly trained technicians and installers who are NATE certified.
You made a great decision by calling us!
Almost all our clients are taking advantage of our no interest financing.
Setting the Appointment
Once the interview is completed, the next step is to schedule and confirm an appointment. This step builds momentum and sets client expectations for when the H.S.A. and install teams are working in the home. Positioning phrases at this step communicate our unique points of value or help to paint a picture in the client's mind of what to expect.
"I have you scheduled to meet with John- he is very knowledgeable and values your input as he develops solutions for you to consider."
"John will measure your home to be sure your system is sized properly."
"Our install team will treat your home with respect and care by wearing shoe covers and using drop cloths in the areas they are working."
It is also important to e-mail or text a bio with the photo of the H.S.A. to the client before arriving at the home. Benefits of the bio include-
Puts customer as ease – Gives them familiarity with the H.S.A.'s photo and back ground information before arriving.
Educates and informs client on financing and accessories.
Reminder of appointment date and time.
As the Customer Experience Coordinator confirms the day and time for the appointment he or she should ask for permission to call the client the next day after sales appointment to ensure they are 100% satisfied. This will set the expectations of the next step.
During the sales and installation process, many team members interact with our clients.  Review your process with your coach to make sure your Customer Experience Coordinator has the necessary structure and tools to deliver the ultimate customer experience.
Wahoo!