BDR's Coaches Corner: Labor Management Strategies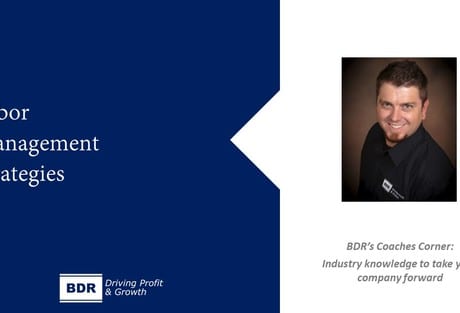 Labor Management Strategies
Your company's main stream of profit is likely generated through the sales of new equipment. Once the sale is made, the only way that revenue can be recognized is by installing the product. This process requires Installers (revenue generators). As your main means of producing profit for your business, it is imperative that we maximize their potential to install each sold piece of equipment as efficiently as possible. Focus and attention on management can be the difference between breakeven and double-digit net profit. Let's look at the top three tactics to implement before summer demand season to ensure your maximum profit potential!
1. The Art of the Start
Try and separate yourself from the day–to-day routines that we can fall in to and take an "outsiders" look at your operation first thing in the morning. What do you notice? Analyze your install team as they come into the shop in the morning. Some of the items you should observe:
o Was time spent at the shop after "clocking in?"
o Were the trucks pre-loaded?
If not, was the job staged in an identifiable area specific to the installer, crew, and/or
were all materials pulled from stock?
o Was the job packet created?
*See item #2 for Job Packet Content*
o Was the client called the day before and the installers arrival confirmed with a set arrival time?
o Are the vehicles fueled up?
o Were the expectations for the day made clear to each crew?
o Is GPS installed in all vehicles?
o Are any stops made between the shop and the customer's home?
Supply house
Hardware store
Gas station
Fast food
2. Job Packet Content
Communication is consistently identified by most companies as an area that needs improvement. The installation job packet acts as our primary means of communicating the information from the Home Solution Advisor to the Installers on the project. Review the existing information included in your existing job file. If a job packet doesn't exist, create one to include the following items.
o Copy of the contract with the customer's signature
o Pictures
*It's important to meet as a team to establish what specific pictures sales should be taken for our installers.
o Copy of pull sheets
o Copy of equipment/ materials ordered
o All applicable checklists
o Materials used sheet
o Permits
o Duct layout
o Drawings
o Printed driving directions
o Invoice (If Installers are collecting)
3. Truck Inventory
Your goal should be to standardize the Installers' truck inventory and stocking levels. This will need to be specific to the types of jobs that our trucks or vans will be sent to and repeatable from truck to truck. If your install trucks or vans bounce from one type of install to another, try creating specific totes with items relating to a specific project type.
An example would be a gas piping tote. This would contain items like black iron fittings and a nipple tray along with Teflon tape and pipe dope. I suggest you utilize your distributor to help with organizing bin stock, tote, and replenishment strategies.
Meet with your Install team members to set adequate stocking levels and content as well as truck and van layouts that are repeatable throughout the fleet.
Shaun Weiss
Head Coach