Attendees learn strategies to drive more revenue at Service Dispatch University in Atlanta, GA!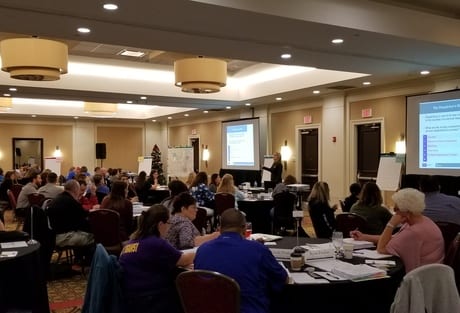 Through a series of interactive exercises, attendees learned how to improve their customer service and communication skills while reducing drive time and improving revenue at Service Dispatch University.
Here's what attendees had to say:
"I've gained a lot of great information. I am excited about implementing these things in our company!" – Carrie Shirk, Goodco Mechanical
"I enjoyed this class and can use ALL of this material to implement in my job. Thank you!" – Colleen Koetsier, Schaafsma Heating & Cooling
"I thoroughly enjoyed the instructors' high energy and positivity. The group activities helped keep me engaged and actively thinking and staying involved. I appreciate the switching of seats so that I may meet new people and get to hear how their business functions." – Bianca Ozuna, Mr. Wilson Heating & Air Conditioning
"I have learned so many helpful tools to begin driving revenue for our company. I have a refreshed outlook on customer service and handling difficult customers. Please continue to "rock it!" Wahoo!!!" – Sarah Hulbert, Carolina Air Inc.
Service Dispatchers walked away from class excited and motivated to apply the excitement and knowledge they've learned to their jobs. One Service Manager is already planning to send another Dispatcher to SDU in April and more technicians to Top Gun Technician Excellence in February after seeing the results of this session.
"BDR classes always show me ways I can improve my processes, and ultimately, revenues. When you feel hopeless, BDR puts hope back into your business." – Nicole Salemme, Action Lock & Key
Attendees walked away with strategies for:
Improving efficiency in routing
Reducing unapplied time
Improving customer service skills
Improving communication skills within their team and clients
Creating scripts to empower their team and build consistency
Come be a part of this learning experience at our next Service Dispatch University class next year in Seattle, Atlanta, or Dallas!
Visit www.bdrco.com for more information.