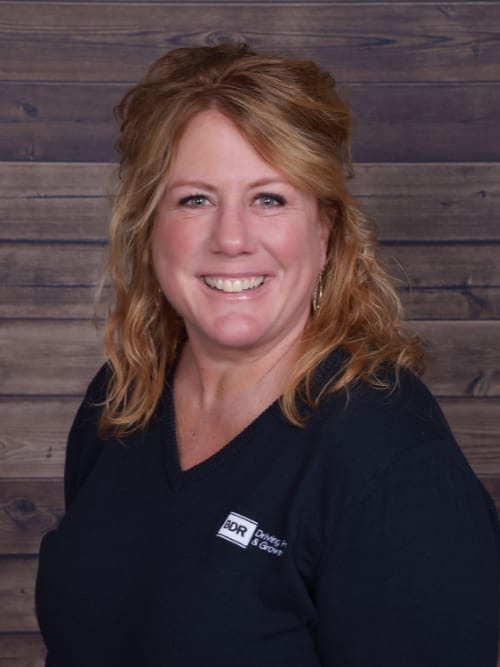 Ronda Chaney started her business management career in 2000, moving into the HVAC industry in 2009. Before joining BDR as a Business Coach in 2019, Ronda created a stellar management career in the HVAC industry for over ten years. Recognizing her intelligence, leadership, management skills, and people skills, her employer formed a leadership team just three years into her career in 2012, which was a key step in an intentional grooming strategy for Ronda.
Career advancement was earned through several tactical and strategic positions spanning administrative, sales, customer service, departmental, and division-level management roles. She was promoted twice and held three key leadership and management roles, concluding with Residential Division Manager. Along the way, Ronda brought team members together to solve challenges, driving team-based success.
As a Residential Division Manager, Ronda had full P&L responsibility for a staff of 32 team members spanning HVAC, Plumbing, and Electrical. She was instrumental in leading the residential Service Department to be a cash cow, representing 36% of total residential revenue, yet producing 50% of total residential division profitability. Ronda created a culture of success through staff inclusion in management decisions, coupled with accountability reports on key business metrics against department budgets. She introduced a cultural initiative that met quarterly with the field teams to provide valuable feedback to the owner. This built trust between field and office; identified significant opportunities for improvement and efficiency; and led to the development of two task forces responsible for specific tools and resources to ensure field personnel could be successful in their roles. She aligned the marketing and advertising initiatives with the company brand, which resulted in a unified brand message with successful interdepartmental lead generation campaigns feeding all departments, driving referral-based sales and customer loyalty. Over the last two years, Ronda grew her division's revenue by 47% and increased net profit by 106%.
One of the toughest management challenges and roles is to influence people into implementing change. In her previous role as a Client Relations Manager, Ronda was instrumental in conceptualizing, branding, and facilitating a highly successful, company-wide Client Experience program. She completed an exhaustive top-down customer-care delivery analysis which formed the basis for her program. Ronda implemented comprehensive interdepartmental workflow processes that standardized and dramatically improved customer care delivery across three business categories. This program made client service consistent and completely transparent with dashboard disclosure, resulting in full accountability tracing. The Client Experience initiative resulted in a substantial rise in customer trust, loyalty, and referrals, coupled with a corresponding increase in employee morale. The key takeaway here was that the departmental managers and employees did not report directly to Ronda. This role was a "dotted-line" responsibility-without-authority influencer role, which paved the way for substantial multi-year division growth and increased profitability through 2019, and beyond.
It is important to note that Ronda flatly states that her team was the reason for her success throughout her management career. Ronda says that her vision and mission, which far precedes her HVAC career, is to "have a positive impact on people." She has been through a lot of training over the years in human psychology, leadership, and counseling skills. She interlaces her people skills and mission to help her team develop and grow, crediting their success as a direct driver of her success. Ronda's beliefs steer her management approach leading to effective leadership. This skill is invaluable as a BDR Head Coach. It will serve our clients very well as Ronda is a gifted motivator who practices her vision every day, to help people win in business and life.
Certifications & Accolades
Acuity Institute – Change Management Professional
View Other BDR Team Members