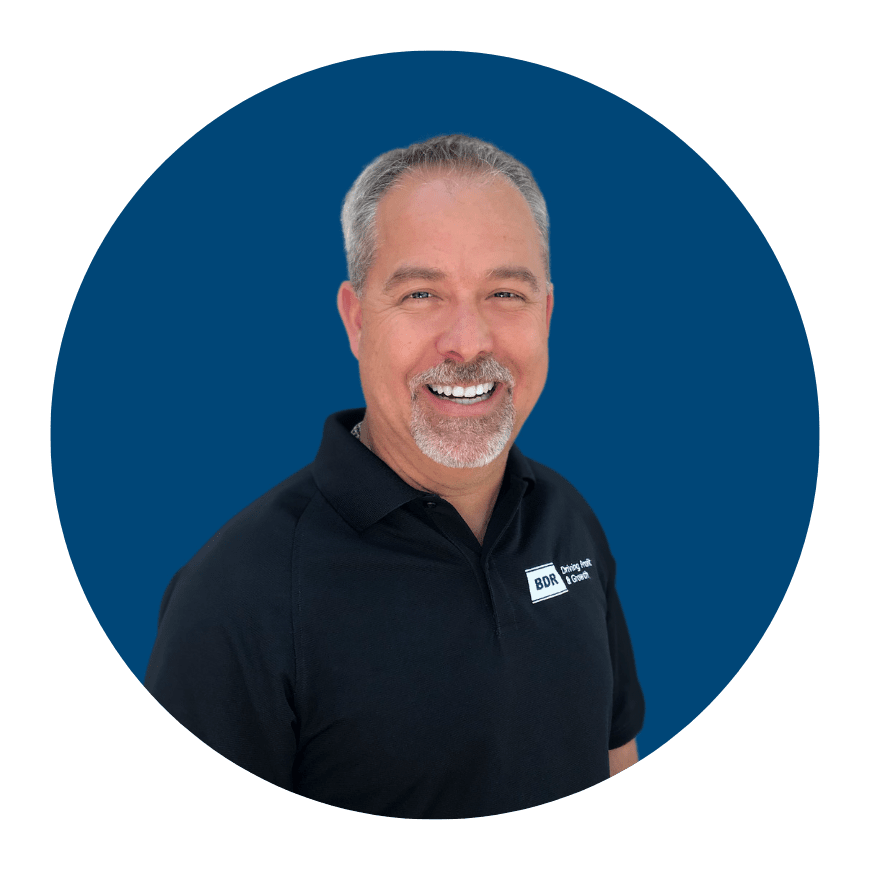 Certifications & Accolades
Acuity Institute - Change Management Professional
The John C. Maxwell Team - Coach, Teacher, Trainer, and Speaker
New Dealer of the Year (1999)
Dealer of the Year (2005)
Growth Leader (2001, 2002, & 2006)
Sales Leader (2003 & 2012)
Paul Grizzle's HVAC career spans over 25 years of total industry experience, with 15 as a successful business owner, six in a leadership role within the Air Conditioned Contractors of America (ACCA) organization, and two as a BDR client in the Profit Coach program.
Starting with a technical education degree in HVAC, Paul gained field and management experience over nine years through considerable experience in installation and service, as an electrician, running crews, and as a manager for a local distributor. As an employee for four companies, one distributor, and a large school district, he gained meaningful experience regarding various business processes, company cultures, and market cycles, learning what works and what doesn't concerning managing a business and motivating employees.
Paul started Grizzle Heating & Air from scratch in May of 1997 with $3,500 by convincing his wife that they could live on that money for three months. He grew his company to $1 million in annual sales by the end of his sixth year in business. Driven to be the best, Paul was a perennial performance recognition award winner. He was always in the top-five, consistently coming in second or third place in his quest for Dealer of the Year.
Driven to improve his business knowledge and the company's financial performance, Paul joined ACCA in 2003 and became a Mix-Group member in 2008. He traveled the country to mix-member businesses learning new business practices, gaining a better knowledge of financial metrics, and contributing his successful strategies to the group. He then established a local chapter of ACCA in his community, building the organization from scratch as its President from 2008 through 2013. He provided invaluable information to help local HVAC business owners to develop their business management knowledge and strengthen their leadership skills.
A big believer in helping people and in giving back to his community, Paul's company has been recognized for excellence and for sponsoring or supporting many community programs:
Canyon News – Best Heating & Air Company recognition award in 2012, 2013, and 2014

Readership voting by local newspaper subscribers determined the winner.

Local Police Department Swat Team

Donated company van for conversion to swat-team vehicle

Annual Fund-Raiser & Donation Programs

Fight Against Domestic Violence
Local Women's Shelters

4-H Youth Programs

Sponsored kids annually in competitions and for college-fund savings

Built a company-sponsored "Barbecue Trailer" for any employee to use at any community, church, or fund-raising event to support and encourage the humanity of giving back.
The community support for Grizzle Heating & Air – "Don't sizzle… call Grizzle" – was recognized and reflected in the company's annual Customer-Appreciation Day, where the attendance in 2014 exceeded 1,250 customers!
At the beginning of 2012, Paul joined BDR's Profit Coach, which he leveraged to refine his business processes, install HVAC-specific financial accounting and performance analysis, and build a BDR-caliber business plan for his company. Within the year, Paul sold his business to a respected local HVAC business owner, who asked Paul to stay on and help him run the combined, two-location company as a guide, consultant, and team leader. The new company remains a Profit Coach client, and Paul now brings his vast knowledge, experience, and success to BDR's clientele as a Profit Coach.
Paul says he's "very passionate about helping people in business and their personal lives. As the owner of an award-winning home service company, I understand the unique challenges of operating a successful business while making quality time for your family. You can have both if you shape your role and business to make it happen. I'm here to help."
View Other BDR Team Members