How to Think Like a CFO – Prime Resources Podcast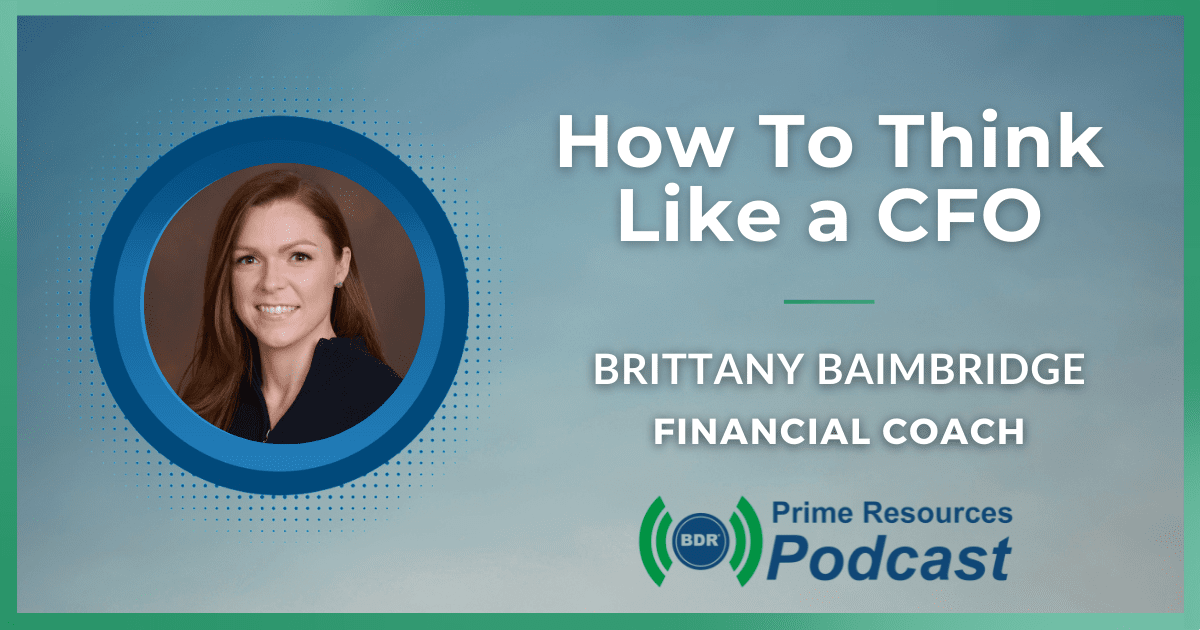 In this episode of the Prime Resources Podcast, BDR Financial Coach Brittany Baimbridge shares what it means to think like a CFO. You don't have to be in the Fortune 500 to apply the same thought processes as a Chief Financial Officer to your company. Learn how you can fine-tune your financial and management reports and utilize them as strategic, decision-making tools.
Podcast: Play in new window | Download (Duration: 46:59 — 25.8MB)
How to Thing Like a CFO: Utilizing Financial and Management Reporting – Time Stamps:
(01:57) – Brittany's industry background
(03:37) – What does it mean to think like a CFO?
(06:00) – Who in a company needs to think like a CFO?
(07:38) – Sharing the "why" of financial data collection and reporting
(09:15) – Examples of financial reporting
(10:28) – What is needed to generate financial reporting
(15:12) – Having the end in mind with reporting
(18:20) – Elements of a financial closing process
(25:02) – The power of checklists
(27:09) – How to utilize financial reporting
(28:56) – What is management reporting?
(34:00) – Capturing opportunity with management reporting
(35:00) – Examples of management reporting
(39:00) – The partnership of financial and management reporting
(42:11) – Focusing your management reporting on what's most important
About the Prime Resources Podcast
BDR's Prime Resources Podcast provides you with the knowledge you need to help your business achieve Prime results – with Prime being the most flourishing stage or state.
Listen to more episodes of the Prime Resources Podcast HERE
You can also listen to all episodes of the Prime Resources Podcast on Spotify