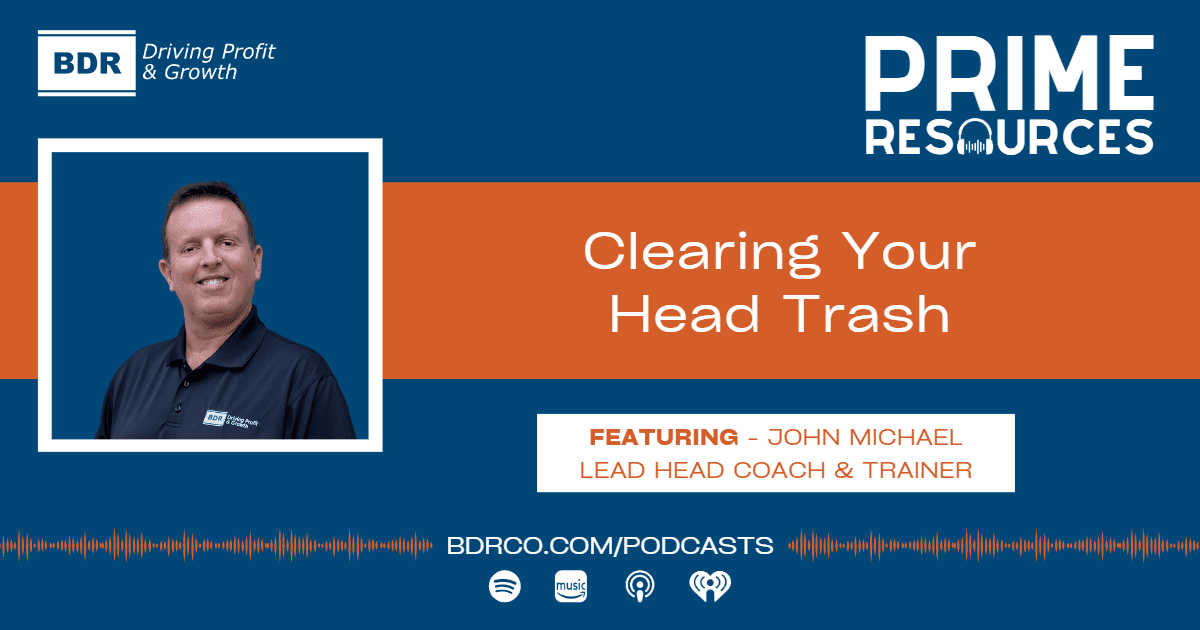 In this episode of the Prime Resources Podcast, BDR's Lead Head Coach and Trainer, John Michel, discusses what head trash is, the tools you need to identify it, figuring out your triggers, and ways you can stop it.
How can you challenge yourself and your thought processes in a positive way to get through and clear out your head trash? Listen and find out!
Podcast: Play in new window | Download (Duration: 24:38 — 17.5MB)
Clearing Your Head Trash Time Stamps
(00:57) – What is head trash?
(03:28) – Where does head trash come from?
(05:22) – Is that real or is it head trash?
(10:49) – How does it hold us back?
(12:53) – How does our head trash hold back others we interact with?
(15:46) – How do we clear our head trash aka taking out the trash?
(21:11) – How often do we need to take out the trash?
(23:26) – Final thoughts
About John Michel
John Michel built a highly successful career in the HVAC, Energy Services, Plumbing, and related contracting fields, with extensive experience in both the Residential and Commercial markets. In all of John's roles, he was heavily involved in developing corporate organizational structure, including people, processes, and other resources necessary to drive personal and company success. He understands the relationship between sales growth and the organizational structure required to effectively support and manage growth… while maximizing profitability.
About the Prime Resources Podcast
BDR's Prime Resources Podcast is dedicated to providing you with the knowledge you need to help your business achieve Prime results – with Prime being the most flourishing stage or state.
Listen to more episodes of the Prime Resources Podcast HERE
You can also listen to all episodes of the Prime Resources Podcast on Spotify