BDR Coaches Corner: Generating Leads in the First Quarter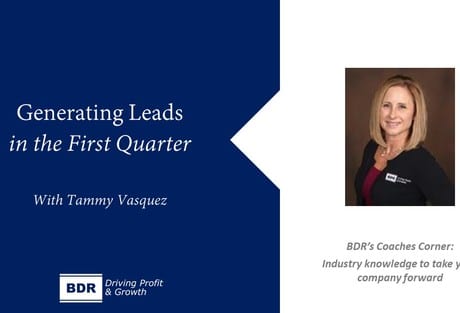 Generating Leads in the First Quarter
Generating service and sales leads can be difficult in the first quarter.  It is easy to play into the traditional first quarter mentality of "It is always slow this time of year," "My market is the worst," or "Nobody wants to spend any money because the holidays just ended."
Let's not waste any time allowing this type of thinking to affect you and your team!  If you have not done a thorough review of your 2018 lead sources, take time to do this.  Look for a combination of higher closing ratios 40%+ and higher average tickets. It is about quality not quantity. Eliminate sources that did not provide any return on investment. If you are not thoroughly tracking service and sales leads, please ask your BDR Coach for assistance.
Your core marketing plan should be focused on owning neighborhoods, driving referrals, and reoccurring revenue from our existing customers which can include, accessories, maintenance and system upgrades.
Existing Customers: Ongoing communication is very important.
Dialing for dollars: the least expensive and most effective process for generating work
Outbound calls to schedule maintenance visits paired with accessory offers
Follow up on recommended repairs by sending E-mail blasts
Newsletters, service reminders, monthly contests
Post install / 1st year communication- letters / outbound calls
New Customers: Neighborhood Marketing Initiative
Door hangers, yard signs
Radius mailers- 5 to 7 homes
Internet marketing and company website updates

Continual update to content and key words
Ability to tracks results
Internet reviews / blogging

Referral Program- aka -customer loyalty program
Define incentives, create collateral
Service Department
Thorough diagnostic process using a checklist which enable the Technician to recommend replacement when appropriate.
Ongoing training which teaches the Technician how to communicate the benefits of replacement over repair without feeling like a "sales person."
Create an accessory sheet for Technicians to review with clients, so they can make recommendations which can lead to further up grades.
Thorough follow up and debriefing process

Review lead log each week for unclosed leads and develop an action plan for closing.
Continue calling on unclosed leads from the past year until they say no.

Daily review of service tickets
Enter all recommended repairs and accessories into a pending log.
Wahoo!
Tammy Vasquez
Senior Head Coach