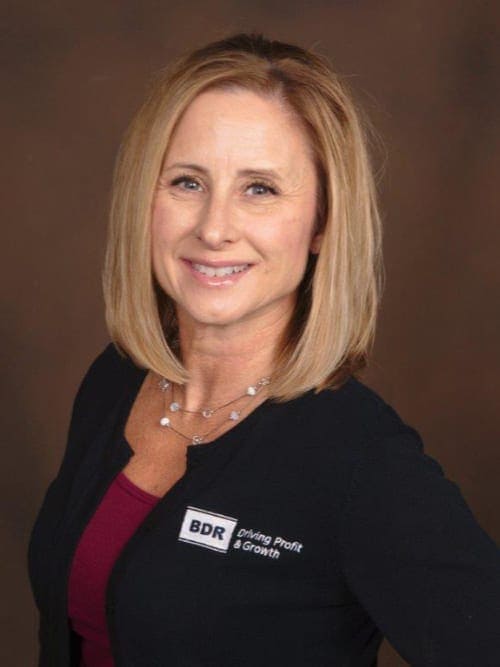 Tammy Vasquez has built a highly successful 14 year career in the HVAC industry spanning sales, marketing, management, operations-process development, and business management consulting. Her career path as a Territory Manager for a Trane Distributor, a Sales and Marketing Manager for a fast-growing HVAC dealer and then as a HVAC Business Management Consultant have prepared Tammy very well to assist BDR clients in their quest to achieve their goals in a collaborative, teamwork environment.
A strong believer in training, she is a graduate of California State University, Stanislaus, with a Bachelor's Degree in Business Administration, focused on Marketing. She has continued to leverage in-depth industry-specific training with BDR; The Act Group; Trane; and others. In fact, over the last 7 years, Tammy has been through these BDR training classes at least twice each: TCS Operations Manual; Owning the Sales Process; Structuring for Profit & Growth; Building a Profitable Service Department; Labor Management. By applying concepts and techniques learned from training and through the practical education and experience gained by working for a HVAC company, she has established a long-term track record of success and implementation follow-through.
As the sales and marketing manager for an HVAC dealer in California, Tammy installed sales systems, processes, reporting, and managed 5 sales reps and 8 Home Depot appointment generators. Under her management, sales increased 196% over two years from $2.7mm (FY '04) to $8.0mm (FY '06). Managing a $500,000 advertising budget, she restructured the spending-mix across all media, increasing total sales per advertising dollar spent. For the Home Depot Program, she increased the average sales lead value to the company from $1,250 to $2,778, and lowered the average cost-per-lead by 47%. In her capacity as a Territory Manager and leveraging the principles and practices based on BDR's business management philosophies, she has helped two other clients to grow their business – profitably – increasing sales over a two year period by 154% ($1.1mm to $2.8mm) and 128% ($1.4mm to $3.2mm).
Tammy also has in-the-trenches experience developing operational procedures that gave her greater insight on how to develop the right processes and people to support the field installation crews and service technicians. Assisting in the production department gave her a great education on install practices, job staging and scheduling, labor management and inventory control. Her work in this area dramatically tightened up loose ends in the field and between the field production and operational departments. Gaining management and co-worker implementation buy-in resulted in changes that ensured an unparalleled customer experience, driving a documented increase in customer satisfaction ratings and a growing referral-based business.
Tammy's philosophy is that the business processes created across all departments should really be designed to enable and support the people in the field. Some of her most rewarding experiences came from teaming up with dealers and co-workers to implement change which resulted in their direct success, which drove the company's success as well.
View Other BDR Team Members