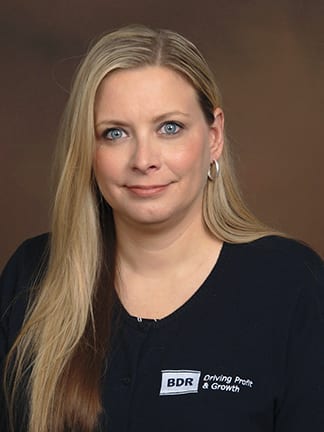 Stephanie Evans joined BDR in January 2020, bringing 15 years of directly relevant experience in accounting, bookkeeping, operations, and office management, with her last eight years as the business owner of North Florida Bookkeeping, LLC. She has considerable expertise in formal accounting practice, systems set-up, software configuration and integrations, process development, and operational streamlining. She spent five years doing volunteer work as a Chamber of Commerce Partner training business owners on QuickBooks and doing one-on-one financial coaching with them. In the course of owning her business, she has found, researched and exposed accounting fraud a half-dozen times and worked with local law enforcement to bring justice to the business owner. She loves data, software, forensic accounting challenges, and helping business owners succeed.
Before BDR, Stephanie's bookkeeping and accounting career started back in 2005 and over seven years, she held full-charge bookkeeping roles in addition to gaining well-rounded management experience, with roles including Office, Operations, HR, Purchasing and Sales Manager. Additional roles include corporate trainer, project management, safety management, OSHA and worker's compensation recordkeeping, among others.
In 2012, Stephanie started North Florida Bookkeeping from scratch as sole owner. Before winding down her business to join BDR, her peak clientele was 150 monthly clients, with a total of 400 accounting and bookkeeping clients over eight years. Her clients were focused on the HVAC, Plumbing and contracting trades, and ranged from $100,000 – $30 million in sales in both residential and commercial markets.
A "Certified QuickBooks Pro Advisor" for 8 years, Stephanie has completed some 300-400: software set-ups, configurations and system conversions. Additionally, she has executed about 200 integrations between accounting and business-operations software like ServiceTitan or SmartServ, and others. As you can imagine, 400 software installations and conversions mean "training" 400 different clients on how to manage and use the software, as well as how to execute the accounting duties and roles, including writing processes and procedures for proper accounting practices and back-office operations. Well…early in Stephanie's career path, she spent 4-years perfecting her skills at writing standard operating procedures (SOP's) as a Technical Writer for Training & Development with Eli Lilly spanning 2,000 employees and contractors, and 3,000 training courses.
As a BDR Financial Coach, rest assured she has the skills, knowledge and business-savvy to deliver practical, implementable solutions with accountability-tracing. "I strongly encourage all business owners to take an active role in their business's finances. I enjoy being in the trenches with business owners and watching them succeed and grow. My personal goal is to ensure that my clients understand their financial statements and see the value of good Accounting Practices. BDR exemplifies this philosophy and I am excited to be a part of the team.
WAHOO!!!!
View Other BDR Team Members