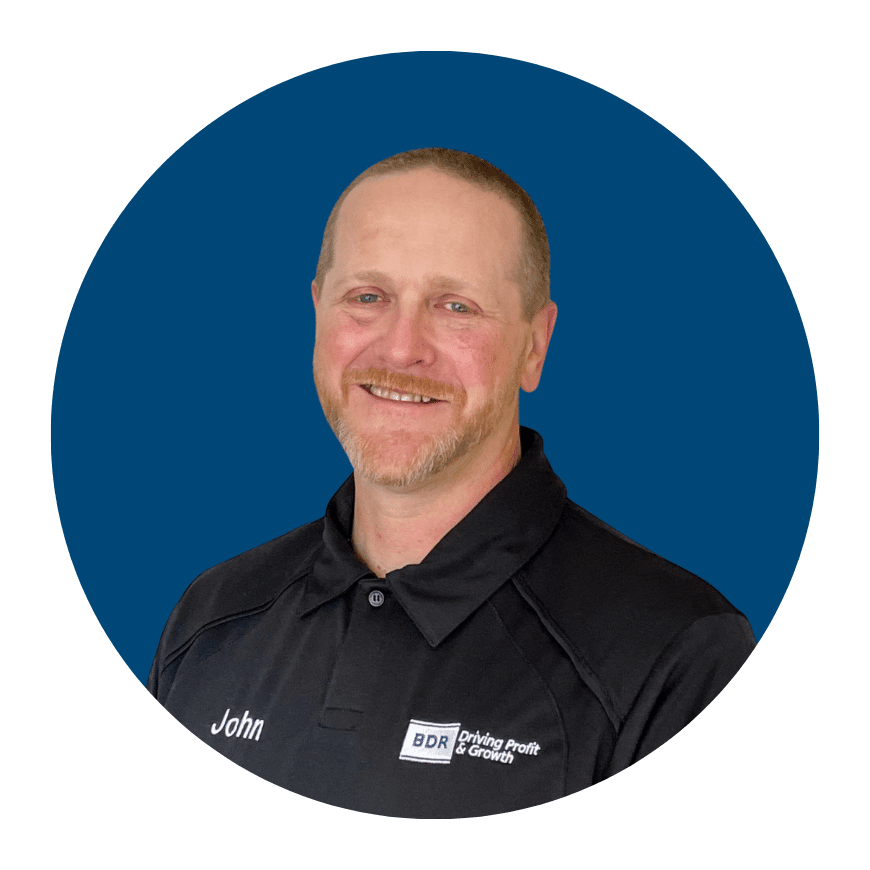 Certifications & Accolades
Corporate Finance Institute - Business Valuation
John joined BDR in 2009 with over 25 years of customer service experience and over a decade of sales and advisory work to complement his very upbeat personality and genuine love of helping people accomplish their goals.
He started as a Training Direct Marketer and focused on making dealer and distribution personnel fully aware of any upcoming training classes and provided proper signup information. Under John's tenure, BDR regularly saw a 15-20% increase in attendance for the classes and workshops he worked on.
As a direct result of his ability to communicate well with all types of people and his growing industry knowledge, John was offered a new position within BDR as a Profit Coach Advisor. In this new role, he began focusing on small dealers with two to ten employees and annual revenues of less than $1.5 million.
During his time at BDR, he has worked with many companies that are 2nd, 3rd, and 4th generation owners, and loves hearing how "grandpa used to sell wood, coal, or oil back in the day."
Now a seasoned Profit Coach Advisor, John works with small dealers with 13 or fewer employees on staff and annual revenues of less than $4 million. By listening to their story and current situation, he creates a specialized program for their growth and success.
He knows that small business owners only have a finite amount of free time to work on driving their business forward. John will gladly sit down with you and share how BDR's coaching programs and tools are simple and ready to use, allowing the small business owner the opportunity to work on driving additional business and even take a weekend off.
John has been inspired by listening to many unique stories throughout his career at BDR. These stories motivate him to provide a customized solution to help his clients gain more freedom and improve their personal and professional success.
"If you have ever considered coaching, training classes, or workshops, I'd love to hear from you and would be more than happy to take the time necessary to learn about you, your company, and your vision for the future."
View Other BDR Team Members