How HVAC Looks to Gen Z: Part 3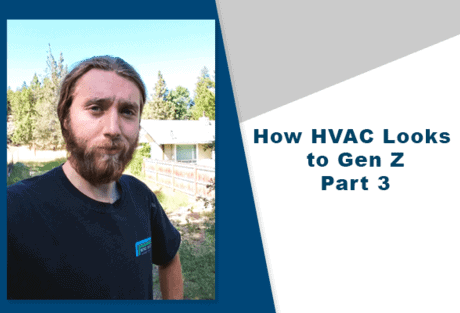 The End of The Road
With summer's end, college classes will be starting again for me. Being on the cusp of a degree, I'm looking forward getting back in the classroom. However, it's more bittersweet than I could have anticipated. If you had asked me if I wanted to go back to school at the start of my tenure as an Install Helper, I would have answered, "Yes! And make it soon as possible."
However, by the end of the summer, the decision was difficult. The pay was good and steady; the work was challenging but rewarding. I was gradually learning new skills and aspects of the trade. The option to begin a career was there, and that's not an option many people in their early twenties have or are aware of. In fact, the next town over has a trade school specifically for HVAC. I decided upon finishing my college degree, but I know that a path of equal measure lay in the HVAC industry.
I enjoyed my time as an Install Helper. Hard, honest work isn't easy to come by these days. It seems many employers just want to take advantage of you till you burn out. That was not the case in HVAC. The people there were all kind in their own way, and not one of them was ever frustrated or short with me. They were thrilled that I was learning and doing my best to understand the mechanics of it all. That positive, cross-generational communication did a lot for me. It was reassuring. I knew that I would miss the mentorship provided by the all the members of the team. Working day-in and day-out with the same people fostered a sense of community and camaraderie that you'd be hard pressed to replicate elsewhere.
My education in HVAC had been a community effort, a community of some of the hardest working folks it's been my pleasure to meet. Although my contributions were small, there exists a sense of pride and personal satisfaction when I go by the buildings and houses where I had worked.
Lessons Learned
One of the best things to grow out of my time in HVAC was the confidence and vigor in approaching other tasks in my life. Recently, a storm knocked down sizable chunks of a plum tree in my backyard. So, I grabbed a handsaw and made firewood, something I never would have done before. I learned how to check my own oil – an easy enough skill – but one that no one had taught me. Crawling under houses had removed any reservations about getting down and dirty when the time called for it. While I couldn't consider myself a skilled laborer from just one summer in HVAC, I was no longer unskilled. My time in HVAC provided me with newfound drive and confidence. If I could sweat and bleed in the heat for a full day all summer, I could get through the few classes that remained to get my associate degree.
Working as an Install Helper removed my preconceived notions about tradespeople. Society teaches us that we must go to college to be educated, to be worthwhile, and to be valued. That's not the case. No doctor, physician, lawyer, nor accountant has the skill set to build the buildings and offices in which they work. There is an undeniable amount intelligence, training, and critical thinking that goes into the trades, and it'd be foolish to discredit that.
My summer in HVAC expanded my personal skill set and helped me to grow as a person. I am extremely grateful I had the opportunity to work as an Install Helper. Now, as I pass by new buildings going up in my town, I think of the manpower, labor, planning, and dedication that makes it all happen. Who knows where my path will ultimately lead, but I'll always feel like I have a home in HVAC.