Achieve Vision with a Coach in Your Corner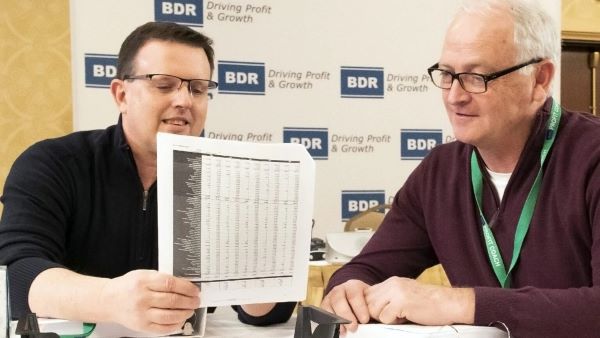 Coaching to a Championship
Each week of the season, professional football teams have a singular focus: win their next game. All 52 players on the roster come together using their individual skills, talent and hard work to achieve victory. And while winning the game that week is important, a championship is the ultimate goal.
To reach their championship goal, teams must create and adjust their game plans each week for a new opponent while also keeping an eye on avoiding any roadblocks in their path in the longer-term.
Every team begins their season – whether they won the big game the previous year or finished in last place – with aspirations of a championship.
Coaches play a pivotal role in guiding players through the finite details on a week-to-week basis while providing long-term vision, helping the team keep their eye on the ultimate prize.
Refocusing Your Vision
Home service contractors got into business with dreams. Whether it was the freedom of financial security or more time to do the things they love, they had high expectations of reaping the rewards that came with being a business owner.
And then things got busy.
Owners are constantly being pulled in multiple directions. On top of day-to-day operations, they also must juggle managing sales, marketing, system design, installation, service, and accounting along with hiring, retaining and leading their team. In the midst of the busy-ness of their business, it's not uncommon to find contractors struggling to see beyond the next day.
That's where a business coach can help. Coaches guide owners in refocusing their vision past just the everyday tasks and set goals for the future.
---
Want to learn how coaching can help your business reach new levels of success?
---
A Bridge To Where You Want To Be
On a recent episode of the Prime Partners podcast, Matt Baker, Director of Dealer Recruitment, discussed how coaching can help home service businesses. "A good business coach can be the bridge between an owner's dreams – which are often unwritten goals – and an action plan to achieve their written goals," Baker said. "The key requirement in successful coaching is helping business owners clarify the vision for their future, leading to both business and personal freedom."
Listen to the full episode: How Coaching Can Help A Home Service Business HERE:
A great coach will help you define your vision and expectations and challenge you to compete at the highest level in reaching your business's fullest potential.
And even for businesses that are "doing great," there's always a next step to success.
Want to get out of the office more and spend time with your family, expand to a second location, or buy that car you've always dreamed of?
Successful owners rely on a business coach to help them build actionable steps and processes to reach their goals – acting as a bridge between where they want to be in the future.
How a Business Coach Relationship Works
According to Baker, there are four elements that make up a successful relationship between a business owner and their coach:
Motivated – an owner has to be motivated to go from where they are now to where they could be down the road. Do you want to take more vacations? Buy an investment property? You need to be motivated to achieve your vision for the future.
Coachable – an owner must be ready to listen and learn from their coach. The relationship works because both parties understand the role they play and seek the same thing – to see the business succeed and grow.
Open to Change – an owner needs to be ready to change. At BDR, one of our core values is that "change is essential. We will always embrace it." We value this because we've witnessed over 20 years how embracing change has led to new opportunities and growth. Remaining stagnant will lead to missed opportunities and competition passing you.
Ready to Implement – an owner ultimately has to take what they have learned from their business coach and be the champion of implementation amongst their team. Through your passion and leading by example, others will follow as you build the business and employer of choice in your market.
---
---
About BDR Coaching
Tailored exclusively for the HVAC, Plumbing, and Electrical industries, BDR's Business Coaching helps you increase your business profitability, cash flow, and personal wealth.
By working with our clients through BDR's proprietary coaching model and by leveraging time-tested implementation tools, your business-management knowledge and effectiveness rise considerably over time. Greater, more consistent profit generation follows…which creates a formidable competitive advantage for you, more career options for your team, and a better lifestyle for your family.
Ready to get started?
Learn more on how BDR coaching helps business owners succeed faster! Download our Profit Coach flyer.