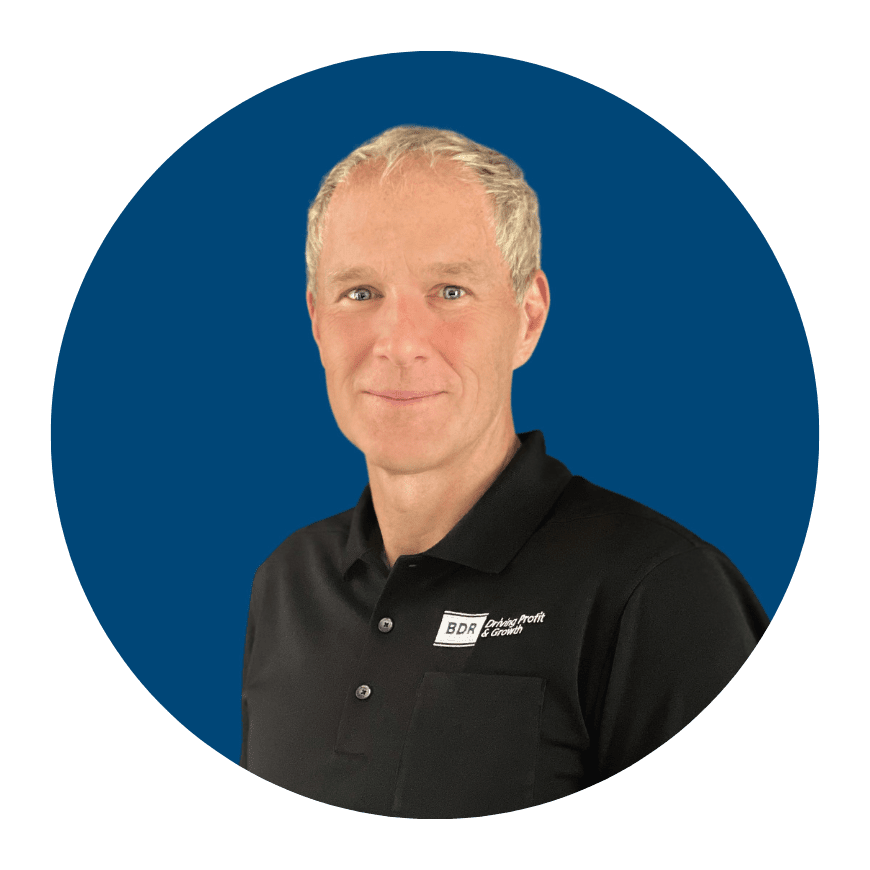 Certifications & Accolades
Acuity Institute - Change Management Professional
Sean joined BDR in 2021 following an exceptional multi-decade HVAC career. He has held various management and leadership roles in HVAC & plumbing wholesale distribution.
In the distribution arena, Sean was promoted three times into critical roles in sales, product management, and then branch manager for Thomas Somerville Co. His distribution career culminated in managing 35 employees and $12 million in revenue.
Sean then joined his family's residential and commercial HVAC business, R.M. Schmidt, Inc., as the Executive VP & GM and ran the business for 12 years. Starting in 2011, and concurrent to his tenure at R.M. Schmidt, Sean was the founder and president of Holistic Home Energy. Sean learned what it is like to wear all the hats as a start-up business owner. He was instrumental in managing both companies, which won a combined five industry awards, including:
Contractor of the Year (2013, 2017)
Contracting Business's National Quality Home Comfort Award (2013)
Heating and ACCA of Maryland's Joe Kaelin Award (2016)
President's Award (2019)
One of the critical characteristics of successful business leaders is that they find a path to success, regardless of the playing field obstacles. At R.M. Schmidt, Sean needed a way to successfully compete in his market, monopolized by three large HVAC competitors with considerable pricing power. He developed a unique home performance analysis and sales system that simplified the communication of complex data to the homeowner.
With price competition essentially eliminated and average projects increased from $5,000 to $25,000, his gross and net margins increased dramatically, too. This system was the genesis of Holistic Home Energy's growth and success. Sean's passion for his disruptive business model gained him industry recognition as a steward for excellence in the HVAC and home performance industry. From there, he was recruited for leadership roles by several companies to build home performance divisions. He led two companies in building successful divisions using the model he created.
Sean is grateful for opportunities throughout his career to identifying areas for market disruption, cast a vision, and create collaborative teams of talented people to bring the idea to fruition. He accomplished this by designing and implementing unique operational systems to support the new business methodologies, developing processes and procedures collaboratively as a team enabling continuous improvement and streamlined communication reducing callbacks. Focusing on operational efficiencies, his inside team could process more transactions as the company grew without sacrificing gross profit dollars.
Sean says his coaching philosophy is that "the revelatory nature of business lights me up and has inspired me throughout my career. My fulfillment comes from building people who build businesses on proven methodologies. Then, create a team culture, excited to embrace challenges, designed with dynamic flexibility to adapt to whatever unique obstacles reveal themselves. This culture will flourish in all market conditions by embracing challenges as opportunities, leading to increased profitability and a business that will promote its continued growth and prosperity."
View Other BDR Team Members