Weatherproof your business and your profits by attending BDR's Residential Maintenance training!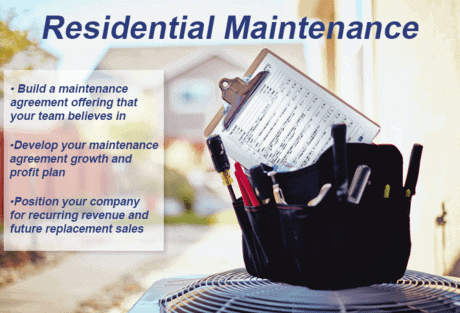 BDR's Residential Maintenance workshop is coming to Dallas, TX on March 21-22, 2019!
Stop running from hot to cold with a Profitable Maintenance Agreement Program.  MAP your way through the changing seasons.
A well- managed maintenance program will weatherproof the company by supplying replacement leads, additional revenue opportunities, and a solid client base that will secure year-round work for the entire company
This training will provide the tools and resources to:
Create a high value and profitable program that your internal and external clients believe in.
Create a training outline that will engage the team on converting customers to true maintenance clients.
Implement efficient scheduling strategies that will maintain a high client retention rate and reduce overall labor costs.
Implement programs that will maximize the profitability of the service department
Develop renewal and payment strategies that will promote the growth of the program.
Learn how to grow and market your maintenance agreement program
Develop your plan to increase the price of any underperforming agreements.
Overcome the emotional fear of losing customer based on price.
Industry wide, underperforming residential maintenance programs have become one of the top profit killers in service departments. This training will help you bridge the gap from where you are today to where you will be in the future. A profitable maintenance program is vital to your company's growth and success.
Sound like a class you could grow from? Register now for the March 21-22 in Dallas, TX!
If you'd like more details on what this class covers, click here.