Our Lead The Way class in Phoenix inspired our students to up their leadership game!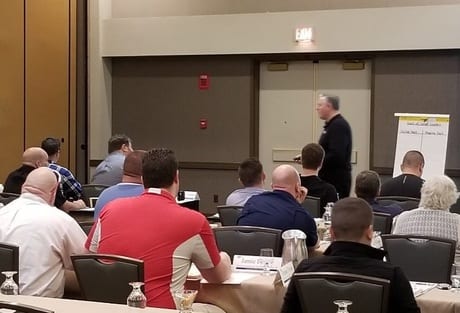 During BDR's recent session of Lead The Way, attendees rose to the challenge and renewed their commitments to improve their leadership skills to benefit their companies and team members.
Hear from some of our attendees on how they benefited from the class!
"Great class. Really helped me understand how the company operates and needs to operate. Opened my eyes to leading outside my scope of work."
Jomikia Chandler, Bruce Thornton Air Conditioning
"Great time spent! Gained the knowledge to go from good leader to a great leader. Can't wait to share with the management! Really will give us a competitive advantage in the market place. Thank you."
Kevin Howard, Howard Air
"I have 5-10 large (3 star) takeaways to work on."
Randy Keys, Schaal Heating & Cooling
"I needed to re-up within our company. Going through the class has fired me up to be the "Leader of Change Within." That's my mission. Thanks for a great class!"
Jan Williams, Williams Heating and Cooling
"I came to Phoenix to my first BDR class not knowing what to expect. This class has completely made me a believer and I feel it gave me the tools I needed to manage my office more efficiently."
Stephanie White, Innovative Air Solutions
"What an amazing class. I was optimistic about it before I attended it. Now I can't wait for the next class and my future of becoming a better leader."
Dan Wolters, Air Conditioning Services
"BDR focuses on the "how" of the business from the people to the financials and more. They help you evaluate all aspects of the business and the leaders' contributions to the overall success, and how to empower others to represent the brand. They are a great resource to become/remain competitive in the market place."
Jennifer Jacob, Jacob Heating & Air
"Just another in a long line of industry leading ideas from the master of getting it right. Phenomenal class – increase class offerings of this annually, I'll sign up every year."
Robert Currie, Innovative Air Solutions
Could you benefit from these strategies?
If you want to learn how to be the leader your company deserves, one that can develop a vision for your team and lead them toward your company's goals, stay tuned!
We'll be hosting our next Lead The Way class soon! If you're interested in signing up for this upcoming session, contact Angie Swartz at angieswartz@bdrco.com.