Mike Maynard answers your questions about BDR's Labor Management course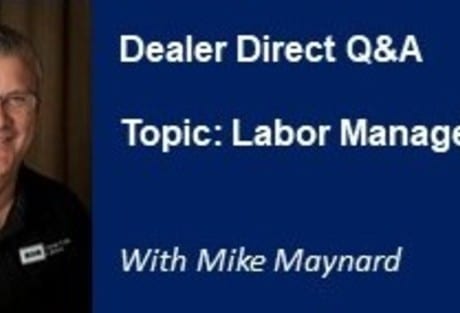 This week Mike Maynard discusses BDR's Dealer Direct training program where we bring our classes to your place of business. Our topic, Labor Management!
Question: WHY IS LABOR MANAGEMENT IMPORTANT TO A DEALER TODAY?
Mike: In today's employment environment, Technicians and Installers are harder to find than ever. So with labor shortages, we need to make sure the company is doing everything possible to maximize every hour of labor our employees have each and every day. The average install department wastes about 2 hours per day and many service departments bill out less than four hours in an eight-hour day. If a company can reduce lost time, think about all of the additional hours we have to generate revenue. In business it comes down to how many hours do we have to generate revenue. In business, it comes down to:
How many hours do we sell?
Are we maximizing each one of those hours?
Great Labor Management is crucial to make sure we maximize both our revenue opportunities and our labor force.
Question: WHAT IS YOUR LABOR MANAGEMENT BACKGROUND?
Mike: Before I sold my company, we were running 13 service technicians and 20 install crews doing both residential installs and service as well as residential new construction. I understood the value of each hour of those 40 plus revenue producers' time. A wasted hour can never be resold. Our Service Technicians came to the office once a week for meetings. RNC materials were all delivered to the job site by an outside vendor, and our replacement jobs were staged each and every day by our warehouse people so our workforce was able to get to the job as quickly as possible. For many years, I was responsible for the install side of the company and worked closely with my Service Manager to uphold the policies in the service department.
When I work with clients on Labor Management, I share my experience plus what I've learned from other dealers to help them build a personalized labor management system that works for them.
Question: WHAT ARE THE BENEFITS OF HAVING THIS CLASS AT A DEALER'S PLACE OF BUSINESS?
Mike: When a dealer holds a training class at their place of business, it can be personalized to their company and team. It allows the owner to be able to have all of their people in the same room hearing the same thing and coming up with the right solutions for their company. The employees contribute and participate as they are more relaxed being in an environment that is familiar to them. Plus, there are no travel costs! When a company can get everyone on the same page at one time the movement forward is huge and the chances of going back to our old ways are greatly reduced. We can get more implemented at a faster rate!
Question: HOW DOES GREAT LABOR MANAGEMENT SUPPORT SALES?
Mike: Any company that has been through Labor Management and adopts the practices and principles of labor management quickly sees upside. When we are able to get control of our labor, in either service of install, the number of hours we have to sell goes up. Think what happens when we save 2 hours a day for a replacement job. That comes up to 10 hours in a week. When you take that out over a year's time, we are talking about an additional 500 hours for installs. Ask yourself how many additional jobs could you install in 500 hours with great labor management?
With great labor management, we are able to install more great jobs and gain more referrals from delighted customers. On the service side, if we are able to cover more calls with the same number of Technicians, it gives them the ability to capture more sales leads for our Home Solution Advisors.
Great labor management helps us maximize our sales efforts and results.
Question: WHAT IS YOUR FAVORITE PART ABOUT THE DEALER DIRECT FORMAT?
Mike: With dealer direct you are in that company's environment and usually people are more open. Plus, the dealer can have many more people in the class then if they had to send their people out. You can see the faces of people light up as they see the concepts we show and understand what is in it for them. Employees who may have never been sent to a BDR training class get a firsthand opportunity to learn how the best of the best operate their companies. As a Trainer, I get the opportunity to impact more people's lives doing a class specific for that company. For me it is the payback I am able to give for the blessings I have had from this industry
This concludes our Dealer Direct Q&A! If you're ready to take the leap, contact BDR Distribution Relationship Specialist, Candy Cunningham, and capitalize on the opportunity to teach, encourage, and motivate your team toward profit and growth! If you'd like more details on upcoming events, click here