Learn strategies to find and hire great employees!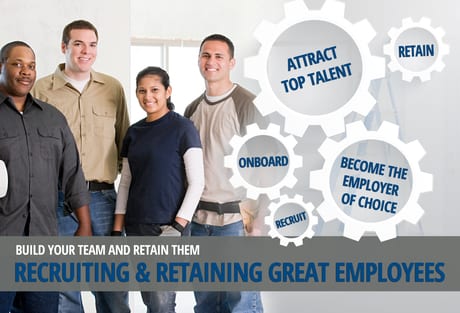 Recruiting & Retaining Great Employees focuses on how to improve your hiring process so you can find long-term employees.
It will teach required and recommended best practices for hiring and retaining employees in a tight labor market. The class will cover detailed processes that will greatly increase the quality of employee you attract and retain. Also covered will be processes on integrating new employees into your company culture, with a strong focus on the millennial generation. By attending this class, you will be able to identify the improvements you can make in your current hiring and HR processes to attract and retain top talent.
Hear what past attendees had to say:
"I love that Aaron tells you exactly what to do, step by step."

Christina Hendricks, Ballard Natural Gas Service
"We currently don't have an approved process for hiring. After this, we are going to implement these methods."

Dave Knight, Climate Control
"I'm excited about getting a better handle on recruitment."

Bob Goodrich, Danco Comfort Services
"Brought out aspects I never considered as a new Service Manager"

Chris Day, Ultimate Heating & Air
If you'd like more details on upcoming events, click here