Hire and retain great employees with our HR classes!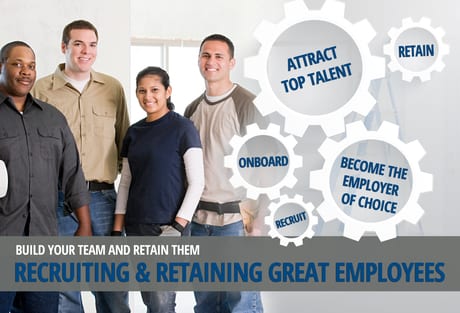 Recruiting & Retaining Great Employees will teach both required and recommended best practices for hiring and retaining employees in a tight labor market. The class will cover detailed processes that will greatly increase the quality of employee you attract and retain. Also covered will be processes on integrating new employees into your company culture, with a strong focus on the millennial generation. By attending this class, you will be able to identify the improvements you can make in your current hiring and HR processes to attract and retain top talent.
Successfully Developing & Managing Employees: Running a business today is more about managing people than anything else, yet our industry has not made any fundamental changes in the way we manage our employees, especially the new millennial generation. For a business to grow and reach its potential, it has to have stable, productive, long-term employees. If we can improve the way we manage the employees, we can prevent the turnover and the company has the ability to reach its potential. Middle management is the key to moving through the growth walls of any business. It is important for the owner to understand what their role is in setting up the new manager to succeed.
By attending this class, owners and managers will learn how to develop management processes that cover managing the employee on a daily, weekly, and yearly basis and how to develop long term career paths for their field workers (installers and service techs) from entry level through Mater level, including operational details of how and when to train them.
For more information, click here.