Hear about our recent Dealer Direct experience training Service Technicians!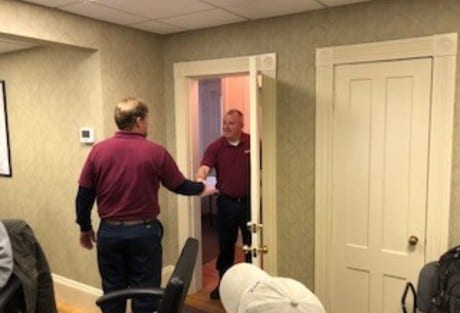 For those of you who have been following BDR closely the past several months, you may have heard us use the term Dealer Direct. Dealer Direct training is a new addition to BDR and one that has had a lot of success. With Dealer Direct, we go right to a dealer's place of business to help them.
Are you curious about what this "success" looks like? Check out the pictures below from one of Dave Consulo's recent Top Gun Technician Excellence classes through the Dealer Direct program.
Practicing putting on shoe covers
Skills practice: Initial greeting with the Homeowner
Skills practice: Building rapport with the homeowner
Skills practice: Overcoming objections
Skills practice: Thanking the customer
The other three BDR University classes that are available through the Dealer Direct program are:
Top Gun Installer Excellence
Duct Design for Profit & Efficiency
Labor Management: Retail-focus
All four classes are eligible for NATE Continuing Education Hours.
Are you interested in hosting a BDR trainer at your work place to teach, motivate, and encourage your team in their customer interactions? Reach out to BDR Distributor Relationship Specialist, Candy Cunningham. If you'd like more details on upcoming events, click here.