Double dip and attend our human resources classes in Seattle, WA on January 25-26, 2018!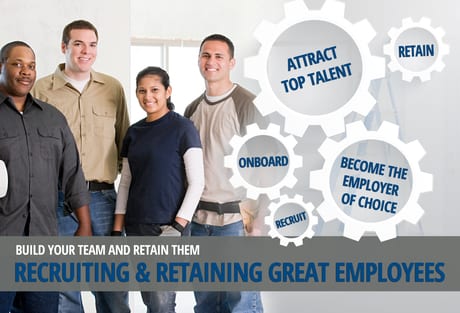 Our two human resources classes this month focus on improving your hiring process so you can find and keep long-term employees!
Recruiting & Retaining Great Employees
Learn how to manage millennials and integrate new employees into your company culture. By attending this class, you will be able to identify the improvements you can make in your current hiring and HR processes to attract and retain top talent.
Register for Recruiting & Retaining Great Employees on January 25, 2018 in Seattle, WA today!
The next session will take place in Phoenix, AZ on April 12, 2018.
Successfully Developing & Managing Employees
You will learn how to develop management processes that cover managing the employee on a daily, weekly, and yearly basis and how to develop long term career paths for their field workers (installers and service techs) from entry level through Mater level, including operational details of how and when to train them.
This class will be here one time only this year so register today for January 26, 2018 in Seattle, WA.
Interested in both classes? Simply register for both classes at the same time and save!