BDR's Top Gun Technician Excellence class in Dallas was a success!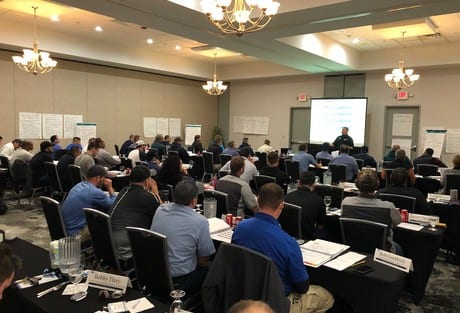 During our first session of Top Gun Technician Excellence for 2018, attendees learned the soft tools to perform their job better.
Some of the takeaways include:​
Learning how to develop repeat clients
Being better positioned to help company growth and offer repair options, accessories, and maintenance agreements
Receiving a lot of key tips to help communicate with clients in the field
Hear from some of our attendees on how valuable this information is!
"I expected a good class due to the fact that my company sent me on a flight from Utah to attend, but the training I received far exceeded my expectations. I'm not one to take notes even when asked to, but I took a lot of notes even before they started asking us to. There are many things I will take home with me, not just for me but ideas to share with the company as well."

Benjamin Forsyth, Just Right Air
"I am very happy that I attended this class. The instructors have a true passion for excellence in the industry, backed by years of knowledge and experience in the field. If more individuals took the time to improve the companies in HVAC, the industry would look much better to the general public. Thanks for what you do, BDR!"

Eric Mize, Ree Mechanical
"As a young tech in the field for only two years, this class has helped to jump me much further in my ability to bring greater client service than just trial and error in the field. I honestly think every business owner and lead tech in the HVAC field should take this course."

Casey Cleveland, Ree Mechanical
"This class was great as all of BDR's classes are. I think it really helped our technician to see the direction we are taking the company."

Trey Morgan, Morgan Air Services
"Our industry is very important to me and my family. It's how my wife and I feed our family It's nice to know BDR and their instructors care as much as we do. This gives us hope, thank you BDR. Keep it up."

Derek Drew, Advent Air
"30 years in the field and I thought I was saving my clients money by just fixing what was wrong. Not giving any upgrades because I thought they didn't need them. How wrong was I!! Wish I had this 30 years ago. Thank you, BDR, for removing the blinders off my eyes."

Tom Lovett, JK Mechanical
"This is my second time attending the class. I implemented the techniques taught in the class and was able to double our existing maintenance contracts over the past year. Coming to the class a second time really helped hammer home the fact that if you implement the techniques taught, it works!!"

Josh Gibson, Kappler Mechanical
If you'd like more details on upcoming events, click here