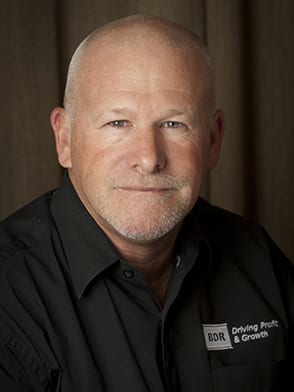 Jim began his HVAC career in 1979 as an installer, becoming a Journeyman Tech in 1984. He has done retrofit, new construction, residential, commercial, and architectural metal work as an installer and technician. In 1994, Jim decided to start his own company in order to create a new life for himself, get more time off, and make more money. At the time Jim purchased it, Hendrix Heating had annual revenues of just $450,000. Jim and his partner doubled revenues in their first year, and grew the company to $3.9 million in the next 6 years with several years of double digit net profits, including one year at 24%! In 1998, Hendrix Heating became a Trane dealership and Jim began attending BDR classes. In 2002, Hendrix Heating received a Pacesetter award from its distributor, which is given annually to the distributor's top dealers.

Jim was one of the first members of BDR's Profit Coach program, and has attended all of BDR's classes multiple times. With help from his Head Coach and Service Coach, he was able to increase company profits, driving the gross profit of his Service department up to 65%. Jim believes that using and implementing what he's learned from BDR each day kept his company profitable.

I have been associated with BDR for over 17 years with the last 10 working for BDR. I have done training for the company as well as coaching. I am a ACCA certified Manual J and duct design instructor and have instructed on duct design as well as Pre Wall, Wall One, Top Gun Closing the Loop and Labor Management

While being a Head Coach for over 8 years I have had the privilege of helping many dealers turn their companies around from struggling to profitability by improving all departments with good processes, procedures and company policiesImproving sales with proper mark up, increasing average sales price by selling high end equipment and accessories while increasing their closing ratio.Helping them with more effective marketing to drive high quality leads.Improving service to higher gross profit margins by proper flat rate pricing, selling accessories, increasing average ticket prices proper and effective communication with customers and reducing drive time between calls.Improving labor management in the install department driving higher gross profit per man day. Helping them understand their financials to better manage the company.Helping with the hiring process to get and retain good employees

Many of my clients have reached or exceeded their annual business plan through implementation of the BDR business model.
View Other BDR Team Members